Photo Gallery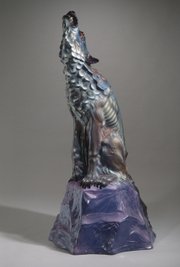 Pieces from the Spencer collection
Most class projects tend to stay in the classroom, for the eyes and adoration of only the teacher and students.
But a group of eighth-graders at Southwest Junior High School have gone above and beyond the usual confines of school projects. Their projects are on special display for all the world to see - on the Internet.
As part of a communications class assignment, 15 students made podcasts about pieces of art on display at the Spencer Museum of Art. Their 90-second spots are available for download at the Spencer's Web site - www.spencerart.ku.edu - and visitors to the museum, 1301 Miss., can pick up a map and an MP3 player loaded with the podcasts for their tour around the galleries.
The completed podcasts are professional-sounding takes on the history of the artworks, artists, time periods and opinions on the pieces. Each student had to pick a piece from the museum's permanent collection, research the history and meaning, and condense their findings into a short spot recorded of all the world to see.
"They became literally experts on that particular artist or on the piece of artwork or the time period that it was done in. It involved history, it involved looking into a biography of the artist, what their life was about, and then also how that piece fit in history," says Mickey Woolard, the school's enrichment resources teacher, who taught the communications class. "And so they gained art knowledge because they started studying design ... they looked at textures and all different forms of art. They kind of had a mini-course in art."
Learning from the young
What the folks at the Spencer didn't count on was getting a lesson from the students as well, says Kristina Mitchell-Walker, director of education and public programs at the museum. Mitchell-Walker, who helped coordinate the project, says the students' unique points of view only added to the podcasts, which were something the museum had wanted to explore for a long time.
"I think there was one, in particular, it was a 'Landscape with Four Trees,' is the title of it, where the girl starts off with that 'Where the Sidewalk Ends' poem," Mitchell-Walker says about Bailey Frei's podcast. "It was just something that obviously she loved that poem and when she saw that painting, it immediately reminded her of a line from that poem. It's great to see kids making those connections."
Mitchell-Walker says the podcasts also have helped her make new connections to works with which she was already very familiar. Specifically, she mentions "Howl," by Luis Jiminez.
"It's the coyote, you know - we use that piece a lot in our tour program and talking to the public," Mitchell-Walker says. "So I know a lot about that piece and I've looked (at it), but what the kid wrote about it ... I almost got tears in my eyes. I have never looked at that and thought of it that way. It was just great. It's such a fresh perspective, you know?"
The idea of podcasts also lends a new perspective to the museum, as it allows the Spencer to use a new medium to freshen up what is, in some cases, centuries-old art. The Spencer has been using art minutes on Kansas Public Radio as a new medium, but podcasts were something it hadn't done. And it turned out to be perfect for the students in the communications class.
"It was a real-life application of both the oral and written communications that we've been working on all semester. Just having students realize that out there in the world, there are ways that you can apply the things that you work on on a daily basis was very exciting to them," Woolard says. "And the other thing is just the attractiveness of the realization that somebody's going to pick up that MP3 player at the museum and hear what you have to say - your impression of that piece of art or whatever work they chose - was pretty overwhelming to them at first."
Ali Yilmaz, 14, a student in the class, will back up his teacher on that notion. Yilmaz, whose podcast was on the "Howl" sculpture Mitchell-Walker mentioned, says the whole project was a bit daunting - once he realized it was really on the Internet
"I didn't really like grasp the idea completely," Yilmaz says. "I thought it would just be there and not many people would look at it, until I went to the Spencer Art Museum and the Web site and just saw 'Southwest Junior High podcasts,' and I'm thinking, thousands of people could see this all over the world if they wanted to. And then it struck me that everyone could be listening to what I said."
Copyright 2018 The Lawrence Journal-World. All rights reserved. This material may not be published, broadcast, rewritten or redistributed. We strive to uphold our values for every story published.