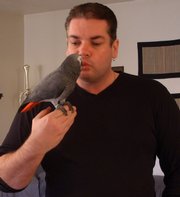 Monday afternoon Andrew Dobson was training Tui, his parrot, for free flight when a gust of wind carried the bird away.
Where the African grey Congo parrot is now, Dobson is uncertain.
"It was the first time I ever let her outside," Dobson said. "She hadn't learned how to negotiate with the wind yet."
Dobson, 35, a New Zealand native, has walked several hours a day in his neighborhood near the Boardwalk Apartments asking neighbors if they've seen Tui.
"She means the world to me," he said.
Dobson bought Tui two years ago from a breeder in Nebraska.
Working from home as a hypnotherapist, Dobson spends at least 12 hours a day with Tui, teaching her to speak and creating videos for YouTube. Tui has attracted over 10,000 hits on some of the videos, which Dobson has posted under the name "kskiwi." Some have commented that Tui has an Australian accent.
"They are as intelligent as a 3-year-old. They have a vocabulary up to 2,000 words," Dobson said.
Dobson said he has met several "compassionate neighbors" from walking door-to-door inquiring about Tui.
One neighbor, Mary Weisert, 56, who lives five blocks north of Dobson, has given him hope. She said Wednesday night her three dogs were barking at something that was "squawking." She thought nothing of it until she was out gardening Thursday and Dobson walked by and asked her about Tui.
"He was ecstatic," Weisert said of Dobson's reaction to the news the parrot may be nearby.
Anyone with information about Tui is asked to contact Dobson at andrew@hypnoticmp3.com or the Lawrence Humane Society at 843-6835.
Copyright 2018 The Lawrence Journal-World. All rights reserved. This material may not be published, broadcast, rewritten or redistributed. We strive to uphold our values for every story published.