Photo Gallery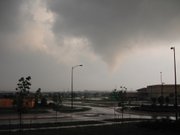 2003 tornado
The night of the storm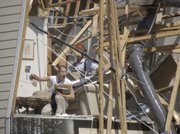 When an F-2 tornado hit Lawrence on May 8, 2003, perhaps no one had a better view than Mike Hegeman.
Standing on his back deck, he watched as the funnel roared near. When the roofs from the next-door Aberdeen South Apartments started peeling off and timber began flying through the air, he decided it was time to go inside. Just as he reached the basement, he heard the loud clatter of debris hitting his home. Then it was over.
"It just shows you nature is in control. There is nothing you can do. If it is going to happen, it is going to happen," Hegeman said.
It's been nearly five years since the storm hit, but Lawrence residents, safety officials and others are living with the lessons learned that night - and always hoping they don't have to use those lessons, since that would mean another tornado in Lawrence.
In Hegeman's case, life hasn't changed much. The house, which suffered around $50,000 worth of damage, was repaired.
"The house now is better off than when it was built new," Hegeman said. "The whole thing turned out to be a blessing as far as I'm concerned."
The city helped in the cleanup process, and the insurance company worked with the family to restore the home.
One thing is different.
His family heeds tornado sirens more than they used to - his youngest son especially.
"Whenever he hears the sirens, don't get in his way. He is headed straight for the basement. He hotfoots right to it," Hegeman said.
The storm, which touched down at 7:43 p.m. that day, was the first tornado to hit Lawrence in 22 years. It resulted in more than 200 insurance claims and $5 million in property damage. No one was killed or seriously injured.
The Aberdeen apartment complex was the hardest hit. Three buildings had to be torn down and replaced.
Besides teaching the value of keeping an inventory of household belongings and obtaining renter's insurance, Al Hack with CEK Insurance said the tornado didn't change much in the insurance world.
"There were fair, fast settlements, which is what you need at that point in time," Hack said.
Building codes
The tornado did prompt one Lawrence resident into action. After rushing off to find shelter two blocks away as the tornado approached, Jane Graves pleaded with city commissioners to adopt storm shelter requirements a year later.
As first-time home buyers looking in the lower end of the market, Graves said her family couldn't find any homes with basements.
"You just have to hunker down in a bathroom and hope for the best," she said. "You've got to have a better answer for that. And really, the technology is out there. The material is out there to reinforce a bathroom, a door or a closet."
Graves asked the city to require safe rooms in new houses that didn't have basements. The commission denied the request.
Since the tornado, Graves has moved from a "slab house" with no basement to a home with one.
"All and all, most people have the feeling that it is never going to happen and if it does happen, it is a long time from now and surely they will be OK," she said.
This year, the city of Lawrence updated its building code. Among the changes are building regulations that ensure construction can withstand winds up to 90 miles per hour. The code lays out guidelines so walls, trusses, roofs and garage doors stay secure during high winds.
"Building codes have always been fairly good in addressing wind issues. It is just something that has had a lot more focus in the last 10 years," said Barry Walthall, the city's building safety manager.
Even still, Walthall said it would be hard to design a building to withstand the full force of a hurricane or tornado.
Emergency response
On the night of the tornado, outdoor warning sirens were sounded in Lawrence three minutes earlier as storm spotters watched the F-2 tornado approach Aberdeen South Apartments. It was the second warning. More than 20 minutes earlier, at 7:16 p.m., sirens were sounded in Lawrence and throughout the county after a tornado was spotted in the southwest corner of the county.
"We had one (storm spotter) who was close to the Osage-Douglas County line, and he was the first one to identify the tornado and follow it all the way in," said Teri Smith, director of Douglas County Emergency Management. "That's very beneficial when you have that kind of information."
In the five years since the tornado, additional steps have been taken as the county continues to look for ways to improve warnings, Smith said.
There are now three locations where emergency officials have the capability to set off warning sirens. In 2003 the sirens could be sounded at two locations on the second floor of the Douglas County Judicial and Law Enforcement Center. One was in the emergency operations center, and the second was in the emergency management office. Since then equipment was added so the sirens can be triggered in the Kansas University Public Safety Department headquarters.
"Redundancy is very important in emergency management," Smith said. "You never know if you are going to lose something. It's best to have multiple ways to get the warning out."
This spring, two new outdoor warning sirens will be added, bringing the county's total to 35. One siren will be a mile south of Lawrence at U.S. Highway 59 and North 1100 Road. The second siren will be south of the Lecompton-Interstate 70 interchange near U.S. Highway 40 and East 779 Road.
The tornado also left law enforcement putting the word out to avoid storm-gawkers. After the tornado, a stream of cars tried to get as close to the damaged areas as police would let them. At one point traffic became almost bumper to bumper on the South Lawrence Trafficway, which passes by the south edge of the apartment complex.
Lawrence police Sgt. Paul Fellers was one of the patrol supervisors that night. He said he doesn't remember any major problems with onlookers, but having additional people in the area adds to the responsibility of officers trying to maintain a perimeter and keep people out of an area who don't belong there.
Though Fellers said the tornado didn't lead to any major changes from the police standpoint, he continues to send the message: Avoid storm-damaged areas.
"I can understand the desire to come out and take a look," he said, "but sometimes that is not the best thing for people trying to work in the area and help displaced residents."
Copyright 2018 The Lawrence Journal-World. All rights reserved. This material may not be published, broadcast, rewritten or redistributed. We strive to uphold our values for every story published.