Photo Gallery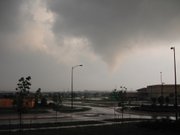 2003 tornado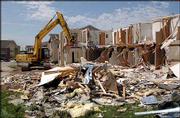 The tornado did most of the work in a matter of minutes. Now, it will take months to finish what was started May 8.
Demolition began Wednesday morning at Aberdeen South apartments, 4700 W. 27th St., the apartment complex hit hardest by the tornado that struck Lawrence. The apartment complex's owner, Mike Stultz, said he hoped to have the demolition -- along with repair work on the other buildings he owned that were hit by the tornado -- completed by Aug. 1.
"Things are moving right along," Stultz said. "We're just trying to get a large part of our work done by the end of the summer."
Stultz wants to rebuild the demolished apartments in the same layout as before the tornado. He has no timetable for occupancy of the new units.
"I have no idea," Stultz said. "It probably won't happen inside of six months."
Meanwhile, the Federal Emergency Management Agency opened a mobile disaster recovery center Wednesday morning at the Clinton Parkway Assembly of God Church, 3200 Clinton Parkway.
Even though just four people had used the center by Wednesday afternoon, it serves as a resource for the victims and will assist those who already have applied for FEMA assistance by telephone.
"They don't have to come here to register for assistance. That's done by telephone," said Mike McCormick, a FEMA public information officer. "But obviously in a disaster, there are people who have issues that they are more comfortable talking about face to face."
The center will serve as a main reference point for all federal aid going to tornado victims in Douglas County. There are representatives from the Small Business Administration giving out low-interest loans for those who need to rebuild. Applications for grants are available at the center to help cover the costs of lost personal property or medical attention. Even crisis counselors are on hand to aid victims who are struggling with the tornado's aftermath.
Most of all, McCormick said, the center exists simply to answer any questions that victims may have.
"We have no idea how many people to expect because we don't know how many unanswered questions are out there," McCormick said.
The center also is trying to get the word out about cases of fraud surrounding the tornado cleanup. McCormick said unlicensed contractors and FEMA impersonators were throwing a hitch in their efforts.
"It's unfortunate that in every disaster we have people come in who try and rip off the people who have already been devastated," McCormick said. "They'll offer to throw up plastic on the roof for 100 bucks, and they'll take the upfront money and run."
He also has worries about scam artists impersonating federal officials.
"People impersonate FEMA officers," McCormick said. "They'll go in and try to collect a fee for inspection. There's never a fee for anything FEMA does. If somebody asks for money, then it's bogus."
Despite McCormick's fears, the Lawrence Police Department has made no arrests on fraud cases associated with the tornado. One contractor not from the area soliciting work related to the tornado was asked to leave the city, police said.
FEMA's recovery center will be open from 9 a.m. to 6 p.m. today and Friday and from 9 a.m. to noon Saturday.
Copyright 2018 The Lawrence Journal-World. All rights reserved. This material may not be published, broadcast, rewritten or redistributed. We strive to uphold our values for every story published.