For most residents of the southwest Lawrence neighborhood slammed by a tornado Thursday evening, it was their first experience with a twister.
They hope it is their last.
"I always wanted to see a tornado, but that was enough," said Adrian Garcia, 24, a para-educator who watched the tornado from a friend's residence just west of the Aberdeen Apartments & Townhomes that was ground zero for the tornado.
At least one building sustained major damage. Roofs were torn off and windows were knocked out. Debris and dust covered many cars in the parking lot and some looked as if they had been sandblasted.
Shortly after the tornado struck, Cully West, 23, was looking around in amazement at his shattered second-floor apartment. A friend visiting from Chicago, Andrew Morgan, could only shake his head in awe.
The front room window was blown into the apartment. Broken glass covered most of the furniture. The television had been knocked off a cabinet onto the floor.
"We just barely made it into the bathroom," said West, a Kansas University senior from Overland Park. "Then we heard a big thud, and it was all over."
West had been watching storm reports on television when he decided to get up and look out the window.
"It was getting really dark, and people were running," he recalled. "We decided we'd better get into the bathroom."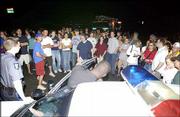 Rude awakening
Morgan, 23, said he had been taking a nap on the couch seconds before the tornado hit.
"I was just shutting the door to the bathroom, and I could feel pieces of glass, and then they just started crashing against the door. The door saved my life."
The idea of hiding under the stairway in his apartment building just didn't seem like a good idea to Rich Putnick, 23, a KU graduate student from Edwardsville, Ill. So after looking out and seeing the tornado clouds in a field south of the complex beyond the Kansas Highway 10 bypass, Putnick ran to his pickup truck and "high-tailed it out of there."
"That probably wasn't the smartest thing to do, but I headed east away from it," he said.
At Inverness Drive, Putnick looked back and saw the tornado taking the roofs off buildings. He said the tornado seemed to get bigger and wider. It missed his building, he said, by about 25 feet.
About 20 minutes before the tornado hit, Leslie Torrez, 23, a KU senior from Topeka, was at the Aberdeen complex looking for a friend who wasn't home. She went to another friend's home in a nearby duplex and was standing outside when the tornado approached.
"When I saw it, it was about 100 feet in the air, and it went right over my head and then it came down," Torrez said. "It was just absolutely crazy. I just dove inside."
Jim Soden, 38, had just welcomed into his first-floor apartment two neighbors from upstairs, Trevor Herntier, 27, and Vanessa Edkins, 23, both originally from Winnipeg, Canada.
"We looked across the parking lot and saw that people were getting excited and pointing to the sky," Soden said. "We figured something was about to happen. We all went to the back bedroom and hid in the closet."
Streets closed
Herntier and Edkins had always heard about Kansas tornadoes but never thought they'd be in one.
"Now we have," Herntier said.
Minutes after the tornado roared through, Lawrence police, Kansas Highway Patrol officers and KU police blocked portions of the streets leading to the complex, including Clinton Parkway and Wakarusa Drive.
Traffic became bumper to bumper on the K-10 bypass where sightseers had their best chance to see the damage.
Police and Lawrence-Douglas County Fire & Medical began going door-to-door in the apartment complex, checking to see if anyone had been hurt. City officials said there was only one injury at the complex, and that occurred after the storm when a woman was examining the damage.
Stunned residents milled about in the yards and complex streets.
Copyright 2018 The Lawrence Journal-World. All rights reserved. This material may not be published, broadcast, rewritten or redistributed. We strive to uphold our values for every story published.