A year ago this evening, Randy Lewis stared in awe through the picture window of his southwest Lawrence home as a tornado roared toward him.
"I've lived in Kansas most of my life and seen them at a distance, but this one was coming right at us," Lewis said. "We watched it until right at the last minute."
Then Lewis, his wife, Sue, and a friend who was with them took cover in a basement storage room.
The Lewises heard the sound of debris hitting the house and windows shattering. They also heard the proverbial sound of a locomotive, the sound most often identified with a tornado.
"It didn't last but a few seconds, and then it was all over, and you start picking up the pieces," Lewis said.
At 7:43 p.m. May 8, 2003, a tornado touched down in Lawrence for the first time in 22 years, damaging apartment buildings and houses near Clinton Parkway just east of Wakarusa Drive.
The tornado was one of three spawned by a storm cell that moved in by way of Osage County. A huge tornado, said by some at the time to be at least a half-mile wide, was seen near Lyndon. Later a smaller tornado touched down near Lone Star Lake; the one that hit Lawrence came from the Clinton Lake area.
"It appeared to us it was going to go well south of Lawrence," said Bob Newton, who tracked the storms that night as an assistant in the Douglas County Emergency Management communications center. "Then it just took a curve to the north."
The tornado started coming down in a field south of the South Lawrence Trafficway, moved across the highway and struck Aberdeen South Apartments, 4700 W. 27th St. Three apartment buildings were damaged bad enough that they had to be torn down and replaced. Nearby houses and duplexes also were damaged.
The tornado started to lift as it crossed Clinton Parkway, but several houses north of the parkway, where Lewis lived in the 2200 block of Rodeo Drive, also were damaged.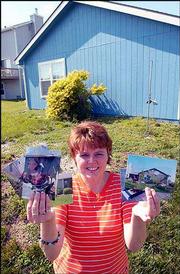 When the tornado pulled back into the sky, it dissipated.
"The (storm) cell itself had actually weakened enough that it never produced another tornado," said former 6News meteorologist Ross Janssen, who was on the air at the time dispensing weather bulletins. Janssen left the station this week.
Luckily, no one was killed or seriously injured by what was later determined to be an F-2 scale tornado packing 150 mph winds.
Area storm sirens sounded the first time at least 20 minutes before the tornado struck. The second time they were sounded, the tornado was six minutes away, according to emergency officials.
"We sounded the sirens more than once that night, and we decided afterward that was a very good move and that in the future we should make that standard procedure," Newton said. He noted that the county doesn't sound an "all clear" siren.
Douglas County Skywarn weather spotters, as well as law enforcement officers, were tracking the storm.
"Everything lined up really well as far as warnings went that night," Newton said.
Cleaning up
Sometimes Lori Crabtree still finds slivers of glass in her house in the 4700 block of West 25th Street. They serve as unsettling reminders of last year's tornado.
"Whenever you hear that bad weather is coming, I get real edgy," the McLouth elementary school teacher said. "Even before it hit (last year) I was a person that was very scared of bad weather."
Crabtree, however, remembers being "pretty calm" before the tornado struck. She had been listening to weather warnings on her car radio when she arrived at her home. Her parents also stopped by, and Crabtree took them and her two children, Kameron, 11, and Miranda, 8, across the street to a neighbor's house, where they took cover in a basement. The tornado hit about five minutes later, Crabtree said.
"Once it got here, it wasn't very loud," Crabtree said. "I heard a 'whoosh' and then it was over."
Crabtree looked out the window of her neighbor's house and saw that a maple tree in her front yard and her house's chimney were gone. "I thought, 'that's not too bad.'"
Then Crabtree went to the back of her house and saw the real damage. Part of the roof was missing; windows were shattered; a storage shed was gone. Debris had been blown into the walls of her house. Inside everything was covered with glass and scattered papers.
"There were things in the back yard that were mine, and there were things that were not mine," Crabtree said.
Several friends and relatives descended on Crabtree's house to help board it up and get it fixed up enough that she could continue to live in it while waiting for permanent repairs. It's taken nearly a year to get her life back to normal, she said.
"We had to wait for the insurance company to get an estimate and then try to find the right people to fix things," Crabtree said. "I just now paid off my contractor. It took awhile to get going, but once the workers were here it went pretty fast."
'Total devastation'
Ann Riat also is still trying to get back to normal. The tornado damaged her house in the 4700 block of West 26th Street so severely it had to be torn down and a new one built. She and her family moved into their new home Thanksgiving Day 2003. She still has boxes to unpack because after returning home she was laid up with a broken ankle.
Riat was at Holcom Park watching a Lawrence High School softball game when it was announced that bad weather was in the area. She returned home and went into the basement to turn off a computer. She was still in the basement five minutes later when electricity started crackling as the tornado hit.
"You could hear the breaking of glass and the ripping of wood," Riat said. "That is so eerie to hear. It is not a nice sound."
When she came out of the basement unhurt, Riat said she saw "total devastation."
Riat also had help from friends and relatives in getting personal belongings out of the house afterward. The only personal memento she lost was a photograph of a nephew who died of cancer.
"Why the tornado didn't touch that stuff, I don't know; it picked up things right next to it," she said.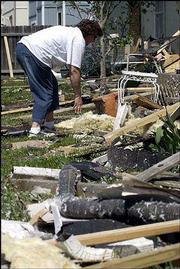 Riat, who grew up in Hanover, had seen tornadoes before, but this was the first time one had personally affected her.
"Every little storm that comes up I get antsy," she said. "When they give a warning, you take cover. You don't stand outside and watch."
Lewis said he was lucky in getting his house repaired fairly quickly. But even as recently as a few days ago, there were still things to do to the house.
"I'm painting the back of my house now," he said.
The aftermath
A little more than 200 insurance claims were filed as a result of the Lawrence tornado, according to the Kansas Department of Insurance. Estimated property losses were $5 million, with $4 million of it occurring at the Aberdeen apartment complex, the department's records showed.
The tornado damaged dozens of houses and duplexes and six apartment buildings in southwest Lawrence, emergency officials said last year.
The tornado was the first to hit Lawrence since June 19, 1981, when one struck several houses and the K-Mart store in southern Lawrence. One person was killed in that storm.
Janssen, who left the 6News set while still on the air to seek cover, recalled May 8, 2003, as being an overcast, hazy day with a couple of hours of sunshine late in the afternoon.
"There was an odd feeling in the air that day with the storms developing," he said.
Some of those affected by the tornado are still waiting to return to normalcy.
Tiraz and Purviz Birdie, who had lived in their home behind the Aberdeen apartments since 1994, emerged from the basement after the storm to find their daughter's bed in the lawn, a neighbor's doghouse in the living room and their roof destroyed.
The family has been living in a townhome since two weeks after the storm, but within the next two weeks, construction on their new home at the same site should finally be complete.
"We're looking forward to that," Tiraz Birdie said.
Copyright 2018 The Lawrence Journal-World. All rights reserved. This material may not be published, broadcast, rewritten or redistributed. We strive to uphold our values for every story published.