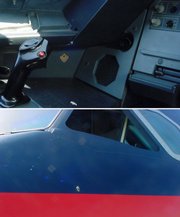 Charlotte, N.C. — A US Airways pilot whose gun fired inside a cockpit said he was trying to stow the weapon as the crew got ready to land, according to a police report released Wednesday.
The pilot didn't tell air traffic control about the shooting or say the bullet had punctured the cockpit until after the plane landed safely at Charlotte-Douglas International Airport on Saturday, the report said. Photos obtained by The Associated Press show a small exit hole on the plane's exterior below the cockpit window.
US Airways Tower Supervisor Nathan Gundlach told police that when he arrived the pilot was on the phone with the Transportation Security Administration. Gundlach contacted US Airways about the in-flight shooting, but police were not notified until an hour later.
"When I questioned Mr. Gundlach about the delay in airport police being notified, Mr. Gundlach apologized and took full responsibility," an airport police officer wrote in the report.
US Airways spokeswoman Andrea Rader declined to comment Wednesday, but airline officials have said the accidental discharge did not endanger the 124 passengers and five crew members on board.
Airline experts said the pilot, who was certified to carry the weapon on board, may have reacted appropriately after the accidental discharge. "If something happens in the air that's not an emergency that's changed the course of action of the aircraft, the priority is to land the airplane," said William Brogan, an aviation expert at Lewis University near Chicago. "It's fly first, communicate second."
The pistol discharged shortly before noon Saturday on Flight 1536 from Denver to Charlotte, as the Airbus A319 was at about 8,000 feet and about 10 minutes from landing.
The unidentified pilot, who has been taken off duty during the investigation, was part of the federal flight deck officer program created after the Sept. 11, 2001, terrorist attacks.
It was the first time a pilot's weapon has been fired on a plane since the certification program was created.
Copyright 2018 The Associated Press. All rights reserved. This material may not be published, broadcast, rewritten or redistributed. We strive to uphold our values for every story published.