Photo Gallery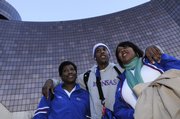 Jayhawks head to Detroit
2008 NCAA Tournament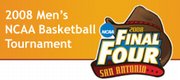 Get your March Madness fix at KUSports.com.
A 1951 Kansas University graduate was among the basketball fans who lined up Wednesday afternoon in Allen Fieldhouse to wish the team well during its Sweet 16 game Friday in Detroit.
"I got to shake hands with Sasha (Kaun)," said 74-year-old Martha Thornton. "He's my favorite."
Kaun and the rest of the team were greeted by about 30 well-wishers.
Many fans had cameras and KU sports memorabilia ready for players to sign. Some held up regional Sports Illustrated magazines that had KU junior Brandon Rush on the cover to be autographed.
As Rush passed by, Thornton explained that her daughter, who works at KU, would be in San Antonio to watch them play in the championship game of the NCAA Tournament.
"Oh, they're going to win it," Thornton said after talking to Rush.
Thornton has helped send off the Jayhawks for two decades. On Wednesday, she wore a KU jacket that was signed by coach Bill Self last year during a sendoff. This year, she had a picture taken with him.
"We'll be watching them and we'll be here when they get back," Thornton said.
The Jayhawks face Villanova about 8:40 p.m. Friday at Detroit's Ford Field.
Copyright 2018 The Lawrence Journal-World. All rights reserved. This material may not be published, broadcast, rewritten or redistributed. We strive to uphold our values for every story published.