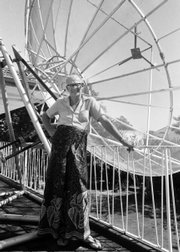 Colombo, Sri Lanka — Arthur C. Clarke, a visionary science fiction writer who wrote "2001: A Space Odyssey" and won worldwide acclaim with more than 100 books on space, science and the future, died today, an aide said. He was 90.
Clarke, who had battled debilitating post-polio syndrome, died at 1:30 a.m. (3 p.m. CDT Tuesday) in his adopted home of Sri Lanka after suffering breathing problems, aide Rohan De Silva said.
The 1968 story "2001: A Space Odyssey" - written simultaneously as a novel and screenplay with director Stanley Kubrick - was a frightening prophesy of artificial intelligence run amok.
One year after it made Clarke a household name in fiction, the scientist entered the homes of millions of Americans alongside Walter Cronkite anchoring television coverage of the Apollo mission to the moon.
Clarke also was credited with the concept of communications satellites in 1945, decades before they became a reality. Geosynchronous orbits, which keep satellites in a fixed position relative to the ground, are called Clarke orbits.
His nonfiction volumes on space travel and his explorations of the Great Barrier Reef and Indian Ocean earned him respect in the world of science, and in 1976 he became an honorary fellow of the American Institute of Aeronautics and Astronautics.
But it was his writing that shot him to his greatest fame and that gave him the greatest fulfillment.
"Sometimes I am asked how I would like to be remembered," Clarke said recently. "I have had a diverse career as a writer, underwater explorer and space promoter. Of all these I would like to be remembered as a writer."
From 1950, he began a prolific output of both fiction and non-fiction, sometimes publishing three books in a year. He published his best-selling "3001: The Final Odyssey" when he was 79.
A statement from Clarke's office said that Clarke had recently reviewed the final manuscript of his latest novel. "The Last Theorem," co-written with Frederik Pohl, will be published later this year, the statement said.
Some of his best-known books are "Childhood's End," 1953; "The City and The Stars," 1956, "The Nine Billion Names of God," 1967; "Rendezvous with Rama," 1973; "Imperial Earth," 1975; and "The Songs of Distant Earth," 1986.
Copyright 2018 The Associated Press. All rights reserved. This material may not be published, broadcast, rewritten or redistributed. We strive to uphold our values for every story published.