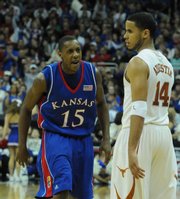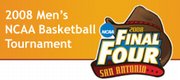 Get your March Madness fix at KUSports.com.
It probably was a good idea.
Portland State's men's basketball team gathered in a local restaurant on Sunday to watch the NCAA Tournament selection show. About halfway through, the Vikings learned they were a No. 16 seed and would play Kansas University on Thursday in Omaha, Neb.
So how did they celebrate? They finished up, headed back to campus and conducted a practice.
Never can prepare too much for the 31-3 Jayhawks, one of the country's most talented teams.
"We're just excited to be in the tournament," Portland State coach Ken Bone said Sunday. "We're a 16 seed. We understand the history there. We understand that no 16 seed has ever won. But we'll approach it like we would any other game."
Portland State (23-9) earned its automatic berth by beating Northern Arizona, 67-51, in the Big Sky tournament championship Wednesday.
NAU is one of two common opponents Kansas and Portland State had this season. Both also played Eastern Washington, with Kansas rolling to an 85-47 victory and Portland State splitting two nail-biters against the Eagles in conference play.
The conference schedule didn't exactly prepare the Vikings for Kansas, though the nonconference slate might have given them a sneak peek. Portland State played three road games against Pac-10 schools, falling by double digits at UCLA, Washington and Washington State before the new year.
"That was definitely a long time ago," Bone said. "It was a neat experience for those kids, getting to play UCLA at Pauley Pavilion.
"But this is a whole 'nother deal. This is the NCAA Tournament on national TV. It'll be a fun opportunity, and I'm just glad we get the chance to do it."
The Vikings are led by 5-foot-6 point guard Jeremiah Dominguez, the Big Sky player of the year who averaged 14.3 points and 4.1 assists per game. Complementing him is Deonte Huff, a 6-4 guard who averages 13.9 points and 6.1 rebounds per contest.
Portland State also has two Kansas products - seniors Dupree Lucas and Brian Curtis, who helped Wichita Southeast to a state title together in 2003.
The Vikings don't have a great chance at playing past Thursday, something Bone seems to understand. But they have had a solid season, winning the Big Sky regular-season title by three games and peaking at just the right time. They've won 14 of their last 15, including two in the Big Sky tournament that gave them a chance to slay a monster with the nation watching.
But Bone knows that all the practices in the world can't hide the overriding factor in Thursday's game: That KU monster is awfully fierce.
"I feel great about our team if we were playing some of our Big Sky schools," Bone said. "But we're not. I'm proud of what we've accomplished, but now we're going against the best of the best."
Copyright 2018 The Lawrence Journal-World. All rights reserved. This material may not be published, broadcast, rewritten or redistributed. We strive to uphold our values for every story published.