Photo Gallery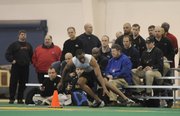 KU football Pro Day & press conference
Three out
Kansas University football coach Mark Mangino confirmed Tuesday that three starters would not be participating in spring practices due to injuries: linebacker Joe Mortensen, center Ryan Cantrell and safety Justin Thornton.
Mangino said he expected all three to be ready for the season. All were on crutches at KU's awards banquet Saturday, with Thornton sporting a hard cast on his left ankle - reportedly from a basketball injury.
Cantrell was wearing a boot on his left foot and is being held out in part because he's a veteran.
"We just felt like, in his fifth year, his health was more important than getting spring repetitions," Mangino said. "He'll work out in the weight room, he'll work out all summer. He'll be sharp at two-a-days and be ready for opening day."
USF game moved
KU's nonconference game at South Florida has been moved to Friday, Sept. 12, for television purposes. The game originally was scheduled for Sept. 13.
The matchup will kick off at 7 p.m. from Raymond James Stadium in Tampa, Fla. It will be televised by ESPN2.
Pro Day a hit
KU had its annual Pro Day to showcase area talent for professional scouts.
The scouts came in droves - 37 of them from 27 teams. The list included Kansas City Chiefs general manager Carl Peterson.
In all, 14 players worked out Tuesday, including 11 players from the 2007 KU team: Aqib Talib, Anthony Collins, James McClinton, Brandon McAnderson, Marcus Henry, Derek Fine, Jeff Foster, Sadiq Muhammed, Marc Jones, Scott Webb and Kyle Tucker.
The other three were former KU defensive linemen Rodney Allen and Eric Butler and Washburn defensive back Cary Williams.
Copyright 2018 The Lawrence Journal-World. All rights reserved. This material may not be published, broadcast, rewritten or redistributed. We strive to uphold our values for every story published.