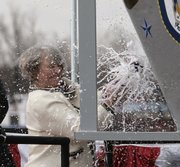 Avondale, La. — The USS New York, an amphibious assault ship built with scrap steel from the ruins of the World Trade Center, was christened Saturday as a source of strength and inspiration for the nation.
Thousands of people, including friends and families of those who died in the Sept. 11, 2001, terrorist attacks, gathered near the hulking gray ship, trimmed in red, white and blue banners.
The bow stem, which contains 7.5 tons of steel from the site, bore a shield with two gray bars to symbolize the twin towers and a banner over that declaring "Never Forget," a slogan among New Yorkers.
"May God bless this ship and all who sail on her," Dotty England said before smashing a bottle of champagne against it, producing a loud thump to go with the spurting liquid and flying streamers.
Story after story of lives lost in, and touched by, the attacks peppered the ceremony, held under the blazing sun and broadcast on large screens. It all brought back painful memories for New York Police Lt. Matt Murphy. But the reason for his being here, though, was a source of pride, he said.
"I tell you, it's a fantastic day. Sometimes you think you're over something," he said, his eyes welling up as he looked off toward the ship, "and then you realize you're not completely."
Deputy Defense Secretary Gordon England, husband to Dotty, told the crowd that ship names provide a legacy, and that for their crews they serve as a source of strength and inspiration.
When the attacks occurred, the ship was planned but had no name. Then-New York Gov. George Pataki asked the Navy to commemorate the disaster by reviving the name New York. That required an exception to Navy policy of assigning state names only to nuclear submarines.
The steel from the towers is now part of the ship that splices through the water, leading the way.
"It resurrects the ashes, so to speak, to do great things for our nation," said Bill Glenn, a spokesman for Northrop Grumman Shipbuilding, the ship builder.
Along with the steel from one of the worst terrorist attacks in the U.S., it also survived one of the nation's worst natural disasters: Hurricane Katrina.
Copyright 2018 The Associated Press. All rights reserved. This material may not be published, broadcast, rewritten or redistributed. We strive to uphold our values for every story published.