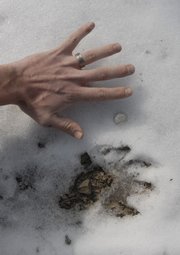 Call me crazy, but the idea of photographing a cougar, a puma - a mountain lion - would be one of the most exciting subjects for my lens.
For years, we heard of one on Kansas University's West Campus. It jumped off of someone's car hood. Someone saw one driving his golf cart. Shoot, some have seen a mountain lion in their backyard just passing through.
But ever since a buddy brought in a picture of a track almost the size of his hand, I'm on it again. I just can't get enough time to find this elusive cat - or cats, as I suspect we have many living around us. From Lone Star Lake to Overbrook, north of the Kansas River to south of Eudora - mountain lion sightings are everywhere.
Always ready, I'm using a Nikon D200, with a 400 ASA and a 80-200 mm lens, and my 500 mm lens is constantly by my side.
The snow makes animals easier to track, but here are some helpful hints if you're out looking like myself. First, respect all landowners - ask questions before you start tramping across the prairie or through the woods.
A big cat can weight as much a 150 pounds and eats 8 pounds of food a day. White tail deer are its favorite.
If you run upon a mountain lion (which I don't recommend), DON'T RUN! Stand your ground, pick up a stick or rock, and act as big and bad as you can. A cougar makes a kill and places it somewhere it thinks is safe and covers it with leaves, and eats on it until it turns. If you stumble across such a stash, stay away - the cat is likely nearby and will defend its kill.
If you catch the cat fever like I have, you're going to spend a lot of time, and get few - if any - results. Shoot, it's been four or five years, and I've seen only one pass through my yard. But every time someone new tells me their mountain lion story, it revives my drive to make the picture. Stories are great, but there's nothing like a good picture.
Copyright 2018 The Lawrence Journal-World. All rights reserved. This material may not be published, broadcast, rewritten or redistributed. We strive to uphold our values for every story published.