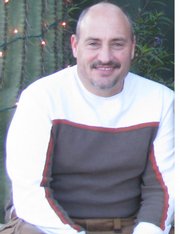 Lt. David Dillon, a veteran of the Douglas County Sheriff's Office who taught many area schoolchildren through the D.A.R.E. program, is remembered as a caring person and dedicated worker after his death in a bicycle-vehicle accident Saturday morning.
Dillon was 44.
"He was a very kind soul who really, really cared about people and loved what he did for a living," his older brother Jeffrey Dillon said.
Dillon died after being struck by a vehicle while riding his bike near his Eudora home. The accident occurred shortly before 8 a.m. in the 1900 section of North 1400 Road. Dillon was struck from behind by a vehicle driven by a 20-year-old Eudora man, according to the Kansas Highway Patrol.
Trooper Terry Burner said he didn't believe excessive speed or alcohol were factors. The incident is under investigation.
The news traveled quickly Saturday across Douglas County, where Dillon grew up and had served more than 25 years at the sheriff's office.
A 1982 graduate of Lawrence High, Dillon joined the office quickly after graduation, following the lead of family friends Rex Johnson and Loren Anderson, both former sheriffs.
"Rex and Loren had a big influence on Dave's life and going into law enforcement," Jeffrey Dillon said.
Dillon worked with thousands of area schoolchildren through the Drug Abuse Resistance Education (D.A.R.E.) program, Jeffrey Dillon said. He had assisted in the formation of the Douglas County Jail, which opened in 1999, and recently worked for the department's corrections operations.
Friends recalled a mild-mannered man who worked to create positive outcomes out of even the most difficult situations.
"He truly cared about everybody that he worked with," Sgt. Wes Houk said. "He truly cared about all the inmates that came in. He was concerned about them, their welfare, and making sure they were taken care of appropriately."
Dillon was the father of two girls, an outdoorsman who fished and water-skied, and something of a weatherman.
"If you needed to know what the weather was, you wouldn't necessary turn on the television," Jeffrey Dillon said. "You would call Dave Dillon."
Friend Brad Bird said Dillon always wore a smile.
"He was just a joy to be around," Bird said. "It's truly a loss of the type of person he is, because they're very rare."
Copyright 2018 The Lawrence Journal-World. All rights reserved. This material may not be published, broadcast, rewritten or redistributed. We strive to uphold our values for every story published.