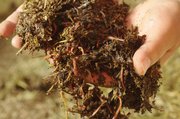 Ottawa — Brad Stevenson's worms have it better than most people.
The worm farmer's red wigglers live in a brand-new air-conditioned building, are fed a never-ending buffet, and their only job is to poop.
Their poop, or castings, is valuable, powerful organic fertilizer, and Stevenson sells it each Saturday at the Lawrence Farmers' Market.
Every week he drives up from his home near Ottawa and lays out his wares on his Rock Creek Wigglers table - 1-pound bags of worm castings for $3 and various sizes of concentrated "worm tea," which is a liquid concentrate meant to be diluted with water and sprayed on plants.
The Lawrence reaction to a sign boasting worm castings and - gulp - tea?
"A lot of people, either they walk up and they know what it is and they're interested in buying it, or they walk up and ask you what it is. And then you get the other third who kind of walk by and kind of give you the 'big eye' look, like 'What the ...'" Stevenson says, mimicking the pie-eyed stare, raising his eyebrows so they are hidden under the brim of his hat. "A lot of them think it's like fish bait. Some of them (are) like, 'Do you really eat this?'"
He says that he should've known those sorts of reactions were coming after a strange encounter of the confused kind at his very first market.
"I had a guy at the first market - he kind of had a head cold, he was sniffling around there, you know, and then he came walking by and he says, 'This stuff good for head cold?' I said, 'It'll scare the (heck) out of it,'" Stevenson says. "Then I told him what it was and he just kind of put the bottle down, turned around and walked off and never said another word, like he was mad. I haven't seen him again."
Stevenson says he got into worm farming after his mother's cousin, a worm farmer himself, called, looking to see if he'd help in ramping up production for a customer wanting a lot of the stuff. Stevenson, 49, was looking for a money-making hobby he could take with him into retirement from his regular job down the road.
"He kind of taught me how to do it," Stevenson says of the relative. "I don't know much about it other than how to make it."The deal with the big customer fell through but Stevenson figured he could sell the castings locally and on the Internet (he's working on getting a Web site up and running), so he became a worm farmer.
So, what does being a worm farmer entail? Well, the daily routine is pretty simple. Every night Stevenson leaves his house - which doesn't have the worms' luxury of central air - and walks back to his worm shed, which sits close the house on his 10 acres. Once he's there, he feeds the worms a diet of ground-up grains, table scraps and anything else that qualifies as organic matter one would compost. Then he waters them, and maybe, if they're ready, he'll send dried worm castings through a sieve and prepare the dirt-like castings for the market, placing it in bags with the Rock Creek Wigglers logo of two happy-looking brown worms.
If that sounds simple, well, that's not the half of it. To get to where he's at now, Stevenson had to construct a temperature-controlled aluminum worm shed on his property. He has made eight worm beds, each 3 feet by 5 feet, saving hundreds of dollars by building them himself and using scrap material such as the porch of his old house to create the beds. Five of the beds are in use, and it takes awhile to get each bed - which house about 2,000 to 3,000 worms a piece - rolling.
It took him nine months of work to get his first batch of castings. Finally, he was ready to sell. But the Ottawa Farmers' Market wasn't ready for him.
"The one down here in Ottawa, which is just two miles north of my house, that won't let me sell it there," Stevenson says, noting its rules. "It's not food."
Freone Hollinger, manager of the Ottawa Farmers' Market, confirms the rules.
"We're not trying to keep people out of the market," Hollinger says. "It is a growers' market. He's growing worm poop."
But the Lawrence Farmers' Market gave him a table, and he set up for the Saturday market with six weekends remaining in the 2007 season. He signed up for another table this spring, then went back to tend to his worms during the winter. Only the worms didn't like the Kansas winter so much, even in their heated building.
"For as many as crawled out over the winter time, I could have sold 100 dozen or better as fish bait if I had sold them," Stevenson says, "but they hit the floor and dried up and died."
Indeed, the floor is littered with brown stains of worms that climbed the walls of the crate, dive-bombed the floor and then died right there on the concrete.
The science of worm poop
Stevenson still may be tinkering with what keeps worms from committing suicide, but the science behind the validity of worm poop as fertilizer is a little more concrete.
Ted Carey, an agent with K-State Research and Extension in Olathe, says says the castings - known as "vermicompost" - contain nutrients and plant hormones to encourage plant growth.
Stevenson's repeat customers talk about the magic of the stuff. Thomas Pyke, who started using it in the spring, says he can't stop marveling at his garden.
"We've had unbelievable success with it. It has worked better than anything we have ever tried. It was quite amazing," says the Baldwin City resident, noting his asparagus "jumped out of the ground."
Beth Keim, an Ottawa teacher, uses the worm tea on the plants she has in her classroom after discovering it through another teacher.
"My plants look really wonderful," Keim says. "I use it all the time. I don't know how often you really have to use it, but I'm afraid that it's such a good thing that I don't really want to stop. I don't want to kill my plants."
Copyright 2018 The Lawrence Journal-World. All rights reserved. This material may not be published, broadcast, rewritten or redistributed. We strive to uphold our values for every story published.