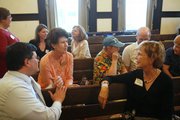 Douglas County residents get a first chance to meet the candidates in local races on the August ballot at a "meet and greet" session tonight at the Douglas County courthouse.
It's the first of 3 events sponsored by the voter education coalition leading up to the August 5th primary.
Tonight candidates introduced themselves, mingled with those in attendance and handed out campaign material.
On July 12th, all county commission candidates will be at the Lawrence farmer's market.
A formal public forum is set for July 29th at the Dole Institute of Politics.
Copyright 2018 The Lawrence Journal-World. All rights reserved. This material may not be published, broadcast, rewritten or redistributed. We strive to uphold our values for every story published.