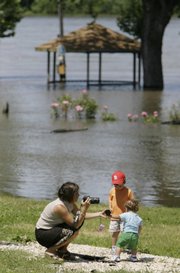 LOUISIANA, MO. — The faithful gathered for church services Sunday in towns hard-hit by flooding along the Mississippi River, and many found comfort in word that the swollen waterway had apparently started to hit its high point.
Dozens of parishioners filled the dry Centenary United Methodist Church in Louisiana, a few blocks from floodwaters that still cover about 15 percent of the town's neighborhoods.
They prayed for aid and gave thanks for the volunteers, National Guard soldiers and prison inmates who helped the community of nearly 4,000 in recent days.
"And they all worked," the Rev. Jeanne Webdell said of the volunteers. "They worked for a cause bigger than themselves, worked to help people that most didn't even know."
It appeared Sunday the flooding in the town and elsewhere in Missouri and Illinois could soon give way to recovery. The National Weather Service said the Mississippi was cresting Sunday at Canton, Mo., not far from the Iowa state line, through the lock and dam near Saverton, about 100 miles north of St. Louis. Crests were forecast for today in Louisiana and Clarksville.
"It's quieter compared to earlier this week," said Louisiana emergency management director Mike Lesley, adding that sandbagging in the town had largely ceased. "Last night, I actually got some sleep."
Water rising elsewhere
But elsewhere, the river was still rising. The latest forecasts for hard-hit Winfield and Grafton, Ill., pushed back the crest to Wednesday.
"We're just trying to deal with it as it comes to us," said Jamie Scott, a dispatcher with the Jersey County, Ill., Sheriff's Office. "The crest (forecast) has dropped almost a foot, so that's a good thing. : All of our levees are holding."
Officials in Lincoln County, Mo., inspected levees near Winfield by air Sunday after one was overtopped earlier in the day, flooding about 1,000 acres and fewer than half a dozen homes, said Lincoln County emergency management spokesman Andy Binder.
"It just blew through our sandbags," Binder said, adding that authorities are confident the secondary levees protecting the town and nearby Elsberry will hold.
Several miles down the river in Grafton, the floodwaters continued to spread deeper into the 650-resident village, heavily dependent on tourism. The town's main road - the Great River Road - was impassable in some stretches, limiting access to businesses.
"Sunday is a big (business) day for Grafton, but just about every business is shut down," said Joe DeSherlia, owner of the Grafton Harbor. "Most of our businesses make their money in the summer, and that tides us over in the winter when there are no tourists.
"It could be a long, cold winter for us."
When the river does crest in Grafton, it's expected to do so at 29.5 feet - roughly 9 feet below the record mark set during the Great Flood of '93. In St. Louis, where the river continued to flow at crest levels Sunday, it was more than 12 feet below the '93 record.
Widespread damage
While not record-setting, the devastation was still widespread: The storms and flooding that started in early June have forced thousands from their homes across six states, killing 24 and injuring roughly 150. Rural areas such as Lincoln County, Mo., suffered the worst. There, more than 300 homes were flooded after more than 90 percent of the county's levees were overtopped.
In Canton, hundreds of volunteers and National Guard members spent the past week using sandbags in a battle to spare that town's levee a similar fate. Volunteers were back out Sunday, searching for leaks along the earthen structure that appeared to be holding up, said Monica Heaton, the city's emergency operations spokeswoman.
"Everything is in a wait and see mode," she said.
Hannibal emergency management director John Hark said the Mississippi was cresting Sunday near the top of levees that protect Mark Twain's hometown.
Copyright 2018 The Associated Press. All rights reserved. This material may not be published, broadcast, rewritten or redistributed. We strive to uphold our values for every story published.