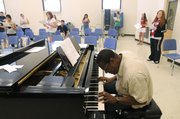 Audio Clips
Music of groups directed by Paul Tucker
There were times, when Paul Tucker was at the control of jets thousands of feet above the earth, that his mind would wander to music.
"I'd be at 23,000 feet in cruise in a (Cessna) Citation or a Lear, thinking about music," Tucker says. "I was planning musical things."
Sometimes, life's journey takes you on some detours. And sometimes those journeys are thousands of feet above ground.
That's the way it's been for Tucker, who recently was named choir director at Kansas University, after four years as associate director. Tucker, 52, grew up playing music in Jamaica and was a budding concert pianist, but just now is coming into his prime as a career music educator.
"I think music chose me," he says. "I didn't choose it."
Early harmonies
Tucker and his twin brother, Stephen - two of six children - were inseparable as they learned music in their hometown of Kingston, Jamaica.
"Based on what I've been told by my oldest sisters and my mother, we were making music as early as they can remember," Stephen Tucker says. "We were singing and playing harmonicas together. We'd be lying there and either singing or playing, harmonizing together."
They were singing at church around the age of 5. They would sit at the piano together, working out chords and tunes on their own without any formal training. And they would tape orchestral concerts and transcribe the piano parts onto paper so they would be able to recreate them.
They had two years of piano lessons starting at age 12 but then stopped. They also sang in an amateur male vocal quartet in their teens.
And they were studying with Kaestner Robertson, a renowned piano instructor there.
But that came to a sudden halt at age 17, when they came home one day to find their father dead of an aneurysm. Their mother and sisters, who already had moved to New York in a long-term family transition, made them relocate to the United States.
"It was all set," Paul Tucker says of the duo's career in music. "Everything seemed like it would just disappear."
Leaving home
In New York, Tucker spent six months working at Montgomery Ward. Eventually, he and his brother - having already finished high school in their home country - realized they had to return there to continue their music education with Robertson.
They left home without their mother's permission.
"Somewhere deep inside, we knew we had to do this," says Stephen Tucker, now orchestra director at the University of California-Irvine. "It was painful in the sense that we had to defy her. It was really traumatic. There were a lot of tears and anger. But I think it was the best decision we ever made."
They studied an additional four years in Jamaica, also teaching and performing on the side.
That was when Paul Tucker decided to take that detour.
Flying high
It came in the way of a flier brought by a music student from the local Army base.
The sheet of paper listed the requirements to take flight lessons and become a pilot. Tucker figured he fit most of them, so he went down to the base to inquire.
Long story short, he got his pilot's license. He moved to California and spent the next seven years as both a flight instructor and commercial pilot, flying private jets for several companies.
All the while, he kept his music going, setting up a recording studio in his home and producing recordings.
Eventually, he ended up as a pilot in Dallas, where he also established the Paradigm Vocal Ensemble to keep his musical interests going (it's a group he continues to direct today). It was there that he got a phone call from someone affiliated with a local high school, wondering if he would replace a recently fired choir teacher.
For some reason, he agreed, and that started him back into the world of music. He soon quit his teaching job and went to school at the University of Texas-Arlington, earning bachelor's of music. He went on to receive his doctorate of music at the University of North Texas. After receiving his doctorate, he came to KU.
Stephen Tucker says this of learning his twin decided to pursue a full-time music career: "I didn't even flinch. I knew it was going to happen anyway. Maybe it was because I knew music meant that much to him."
'Right guy'
As KU's new choir director, Paul Tucker replaces John Paul Johnson, who was named director of the School of Music at Wichita State University.
Tucker, whose specialty is instruction in choral conducting, says his plans for the program include creating a standardized conducting methodology for graduate teaching assistants (who conduct many of the program's eight choirs) and making the annual Holiday Vespers concert, a long-standing tradition that draws thousands to the Lied Center, a "more dynamic" performance.
After Johnson left KU, Larry Mallett, chairman of the department of music and dance, says had several KU faculty members - unsolicited - walk into his office recommending he hire Tucker for the director job.
"We just said, 'We have the right guy here. Let's do it,'" Mallett says.
He says even many of KU's music faculty members might not know Tucker's diversified background.
"Paul is well-qualified," Mallett says. "He's come a different way - his path has been different. But maybe that makes him better at what he does."
Tucker says he loves teaching music more than anything - even teaching students how to fly. He also thinks his wavy path to this job makes him realize how much he wants to succeed.
"When you're young, you chase - you chase around without knowing this is what is in front of you," he says. "In my case, I recognize I've seen all these things, but there's no doubt in my mind what I should be doing.
"I did come full-circle, but I needed to take that path."
Copyright 2018 The Lawrence Journal-World. All rights reserved. This material may not be published, broadcast, rewritten or redistributed. We strive to uphold our values for every story published.