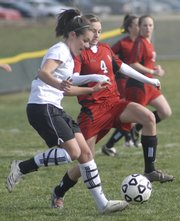 Honorable mention
The following girls earned honorable mention nods on the Journal-World's inaugural All-Area Girls Soccer Team:
Mac Liebl, Logan Keasling, Free State; Kaela Severa, Kathleen Hermesch, Heather Miller, Lawrence High; Jordan Gagne, Tonganoxie High; Cassiday Love, Bre Hoener, Mill Valley High.
Soccer is never far from Stef Stuever's mind. Even while on a school trip to Australia, she still found time to reflect on her skills and memories of the pitch.
Stuever has been playing soccer ever since the fall of her kindergarten year and first began playing competitively in a premier league in fourth grade. Soccer was an easy choice for Stuever, who says she was naturally drawn to the sport.
"I attempted playing other sports when I was younger, but soccer is definitely my favorite sport," Stuever said. "I always look forward to stepping out onto the field. It's a beautiful game."
Stuever said her passion for soccer came from the blend of individual effort and teamwork.
"Soccer is a team sport and it's a lot easier to overcome struggles and more fun to celebrate with a team," she said. "I also love that soccer is a continuous game with no time outs. It allows the individual to be creative."
It's her love of the game combined with a competitive drive that has made Stuever a force on the field. A natural center midfielder, Stuever has used her endurance, field awareness and ball control to make the most of her position. In the tradition of team sports, Stuever's skills have helped guide not only herself, but also her entire team, including her coach.
"Her soccer IQ helps make everyone around her a better player," LHS coach Matt Anderson said. "Her knowledge of the game and situational awareness can make a coach's job a little easier."
Although she says she rarely watches soccer on television, Stuever hasn't needed the example of the pros to make substantial improvements.
"I think I've grown the most in my variety of experiences at different levels of soccer," Stuever said. "Each of my coaches taught and introduced me to skills I needed to utilize in the game. At LHS, I learned that winning isn't everything, but it's more fun and our hard work over the past few seasons has helped us to win more games."
Stuever said her fondest memory of playing for Lawrence High was contributing a goal to the Lions' regional victory over Free State during her sophomore year.
Anderson called upon Stuever as a natural leader for the Lions this season.
"She is a great field general," Anderson said. "She helps the team keep form and her motor is always firing on all cylinders."
Stuever's efforts helped guide her team to an 8-10 record that included a victory over Free State in the first round of regionals for the second straight season.
Stuever's personal highlights this season included cashing in her 10th career goal and earning first-team all-State honors.
Stuever admits she faced challenges at the beginning of the season with a new lineup, but the inspiration from the duality of teamwork and individual effort allowed her to overcome the changes.
"Due to injuries, different teammates had to play the other center midfield position with me this season," she said. "It was a challenge to adapt to the continuous changes, but I think after playing with a variety of players in the midfield my ability to adapt, but still play my own game, has improved."
This new skill figures to add to Stuever's already over-flowing arsenal and likely will prepare her for more success in the future as she enters her senior season and makes plans to play in college.
Stuever was joined in receiving individual honors on the inaugural All-Area Girls Soccer Team by Mill Valley High soccer coach Arlan Vomhof.
In his ninth season at MVHS, Vomhof led his team to the best record in program history at 13-4. The Lady Jaguars were undefeated in league play this year and won the Kaw Valley League title.
In addition, nine players from Vomhof's squad received all-league honors.
Following its exceptional regular season, Mill Valley's run through the postseason was cut short by a loss to eventual champion St. James in the Class 1A-5A regional final.
Copyright 2018 The Lawrence Journal-World. All rights reserved. This material may not be published, broadcast, rewritten or redistributed. We strive to uphold our values for every story published.