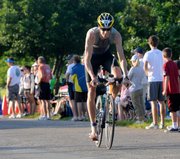 Photo Gallery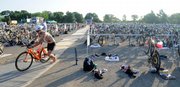 Ironman 70.3 Kansas
To hear Ryan Robinson tell it, the fans loved Lawrence, triathletes embraced the course, volunteers empowered the competition and businesses cashed in on the event.
But perhaps the greatest compliments started coming in Monday morning, the day after the inaugural Ironman 70.3 Kansas had run its course.
"Registration's open," Robinson said of next year's triathlon, set for June 14. "We've already got athletes signing up."
Some 1,100 entrants started the 70.3-mile course early Sunday morning, jumping into the chilly water of a swollen Clinton Lake for a 1.2-mile swim, then traversing the "Iron Cross" for a 56-mile bike ride before embarking on what was supposed to be a 13.1-mile run.
But Mother Nature sent hundreds of competitors home frustrated, as a storm cut power to timing equipment and lightning forced early closure of the course. Only about half officially finished the race.
Lawrence-area restaurants, retailers and others still benefited from the weekend that had started Friday, with a pre-race expo that included a free outdoor concert, vendor booths and other features.
The effects were difficult to miss.
"You could walk downtown on Friday and Saturday and see lots of red armbands," Robinson said. "If you walked into Wal-Mart on Saturday night, there were lots of red armbands and men with shaved legs. I think it was a nice boost for the local economy."
Robinson and his fellow organizers have another two years left on their three-year contract to conduct the Ironman event, a qualifier for the world championships in Clearwater, Fla.
It's a relationship they hope to see extended well beyond next year and the one after that.
With hopes for the weather to be a little more kind.
"Everybody loved the course," Robinson said. "Everybody loved Kansas. It's pretty neat when people from all over the world say great things about your home. It makes you feel pretty special."
Copyright 2018 The Lawrence Journal-World. All rights reserved. This material may not be published, broadcast, rewritten or redistributed. We strive to uphold our values for every story published.