Photo Gallery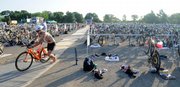 Ironman 70.3 Kansas
Thirty-two competitors call Lawrence home
A list of Ironman Kansas athletes who listed Lawrence as their hometowns:
Alyson Abel, Ashley Andreas, Dennis Anthony, Sandy Brown, Brett Carey, Angela Di Iorio Evans, Christi Douglas, Dustin Elliott, Donna Evans, Kelly Gunn, Jon Hemphill, Christoper Hess, Dane Johnson, Jon King, Emily Knopp, Carrie Mandigo, Paul Miller, Ken Morris, Eric Nelson, Scott Patrick, Gregory Payne, Amy Phalen, John Ringquist, Jenny Ryschon-Knight, Dan Simons, Daniel Smith, Elizabeth Stewart, Ashley Sullivan, Cheryl Trehnholm, Amelia Wilson, Michael Zabel and Jeremy Zimney.
Australian Craig Alexander has been through countless triathlons in his life.
But none of them left the 34-year-old from Sydney as drained and exhausted as he was after Sunday's Ironman Kansas, a 70.3-mile triathlon that took competitors on a grueling journey of the Kansas countryside around Clinton Lake.
After crossing the finish line in second place, in just under four hours (3:59:59), Alexander, the 2006 Ironman world champion, nearly crashed to the ground.
"I didn't pass out, but the guy I was standing by, I sort of collapsed on him," Alexander said. "It was almost a faint, but it wasn't a faint."
Credit the humidity, the hills and the legitimacy of the Kansas course for Alexander's exhaustion. After regaining his feet, he was shuffled off to the medical tent, where he received two bags of a saline solution that pumped up his blood stream and elevated his blood pressure back to normal levels.
The trip to the medical tent was the first in Alexander's 10-year career as a triathlete.
Hours after he finished the race, a slightly spent Alexander had nothing but good things to say about the first event of its kind in Kansas.
"It was certainly a fair, honest race," Alexander said. "The course was challenging, but for the swim and the first 40 miles of the bike I felt awesome. But after that I think the humidity might have played a little bit of a role. I didn't have my running legs, but you keep plugging along because, you know, they could come."
Six miles into the 13-mile run, Alexander was certain he wouldn't find them.
"By mile six I knew it was not my day," he said. "By mile 10, I couldn't wait to get to the finish. I'd expect to win a race like this but, that being said, give credit to (winner) Terenzo (Bozzone). He's one of the best in the world at this Bezzone crossed the finish line three minutes ahead of Alexander to record his second Ironman 70.3 victory of the month. He also won in Boise, Idaho, on June 1.
"The win's great," Bezzone said. "You never want to be anything but first across the line."
Samantha McGlone, a Canadian who calls Colorado Springs, Colo., home won the women's event in 4:19.03.
"It hurt, as always," the 28-year-old McGlone said. "But it was great to be here in Kansas. It was beautiful."
Unfortunately for several competitors, the finish line never came, as the race was called off after nearly seven hours because of rain and lightning that moved into the area. The awards ceremony, scheduled for 3 p.m., also was cancelled because of the threatening weather.
Event organizers said about 60 percent of the field, roughly 900 athletes, had finished the race by the time it was stopped.
The professionals had long since finished when officials pulled the plug, but several amateurs were disappointed that they were yanked off the course.
"It's a bummer," said 40-year-old Dan Mosca, of Joliet, Ill., "But what are you gonna do? It's better than being struck by lightning."
Mosca had just six miles remaining when participants were forced to call it a day. Not that he minded.
"I thought Kansas was flat," said Mosca with a hint of astonishment. "That was ridiculous."
Mosca's friend, Mark Karner, was running in his first ever triathlon, and he was left reeling about how close he was to reaching his goal.
"I was within striking distance," Karner said. "So that was disappointing, but this was a great day. I really enjoyed it."
Others were not so lucky. Several - even some of the elite athletes - pulled out of the race because of injuries. One man was taken by medical helicopter to a hospital after breaking his leg on a downhill ride during the bike portion of the race.
In all, the race featured 14 different divisions for each gender. Athletes as young as 18 and as old as 80 competed in the event.
Regardless of the stoppage or the handful of injuries, the overwhelming majority of triathletes left Clinton Lake's Bloomington Beach with a sense of accomplishment.
Lawrence resident Jon King, who had done four triathlons before but none of the Ironman distance, said having a world-class event in Lawrence made for too good of an opportunity to pass up.
"It's in my own backyard, and they did a great job of putting the event together," King said. "They had a lot of local volunteers, and everything was great. It was neat to have the pros here, and it's neat that they come and do this. But what was even neater was to see all of the age groups."
Copyright 2018 The Lawrence Journal-World. All rights reserved. This material may not be published, broadcast, rewritten or redistributed. We strive to uphold our values for every story published.