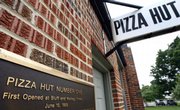 Richard Hassur knows what it takes to be a successful entrepreneur, to take chances and succeed in a field strewn with lost dreams and failed ventures.
But even a guy who would go on to own 150 Pizza Huts - including the first one ever franchised for the global chain of restaurants, a chain that today accounts for some $10 billion in annual sales - couldn't convince a particular Pizza Hut store manager to stay with the company.
That was back in the early 1960s, when Hassur's promise of a good living, secure future and earning potential of $100,000 a year - $100,000 a year! - simply couldn't change the mind of a former Wichita State University football star ready to change careers.
The guy already had committed to become a part-time assistant coach for one season at a small college in Nebraska and wasn't about to go back on his word.
"I told him there probably weren't 50 people in the country making $50,000 a year in football," said Hassur, who was making more than $300,000 a year himself at the time. "He said, 'I don't care if I make a lot of money or not. I just love football.'
"I just said, 'Good luck.'"
The guy rebuffing Hassur's advice: Bill Parcells, who would go on to win two Super Bowls as an NFL coach and now works as vice president of football operations for the Miami Dolphins.
"The odds against him were thousands and thousands to one," Hassur said, chuckling at the thought of trying to prevent one of the game's greatest coaches from ever entering the profession. "Anyway, he did it."
Such stories are the tales that Hassur brings to life in his book, "Pie in the Sky: Adventures of a Pizza Hut Entrepreneur." The self-published paperback chronicles Hassur's standing as the first-ever Pizza Hut franchisee, and how his empire would expand to include restaurants from Alaska to Canada and Mexico.
Rise and fall
Hassur figures that the 150 locations he'd owned or had interests in would have added add up to $300 million in value, taken together. But through a series of expansions, a merger, sales and other transactions, the payoff from his career associated with Pizza Hut didn't end the way he'd hoped.
Stock that he'd acquired by merging his operations with Pizza Hut would have been worth $250 million in 2007, he figures, but it all had been sold off to finance other ventures that hadn't panned out and cover debts that had continued to mount.
The stories are all there, in Hassur's 365 pages - even how he'd decided to move to Lawrence a few years ago, in a house purchased by his brother, Bob, who had put the property into a family trust and agreed to cover taxes and insurance.
Hassur enjoys Lawrence, the town where he'd owned his third Pizza Hut. The restaurant actually had been more of a club, in what is today the Liberty Hall box office downtown.
Its closure eventually led to opening a place on 23rd Street and another north of Ninth and Iowa streets, buildings that today no longer sell pizza.
Recipe for future
Like those operations he once owned, Hassur is busy reinventing himself in an entrepreneur's mode. Having taking a writing course at Kansas University and another on the Internet, he's busy being an author.
The Pizza Hut book is his first, a self-published effort that has started with 3,000 copies and already has sold 1,000. Next up will be an autobiographical look at the Great Depression and World War II, through the eyes of a child.
Now 76, Hassur has no motivation to slow down or go halfway. He wants to find a major publisher willing to pick up his Pizza Hut book, then distribute it in China - Pizza Hut's biggest growth market - before signing on for his later efforts.
"If you're an unknown, the chances of your first book being printed are about one in 10,000," Hassur said, sounding like he must have advising Parcells some 45 years ago. "But I'll be able to say, 'Hey, I sold 3,000 books.' (John) Grisham and Scott Turow, that's the way they got started. :"
Once an entrepreneur, always an entrepreneur.
Copyright 2018 The Lawrence Journal-World. All rights reserved. This material may not be published, broadcast, rewritten or redistributed. We strive to uphold our values for every story published.