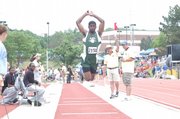 When you have the athletic ability of Andre Linzy, you have a multitude of colleges to choose from - and even what sport to play at the next level.
For Linzy, basketball is in his future at Coffeyville Community College next year. But in his immediate past was one of the most successful - and short - careers by a long jumper at De Soto High.
In just his second year of participating in track and field, Linzy found himself on the podium at the Kansas Class 4A state tournament in May. Linzy finished first in the triple jump and second in the long jump at the state meet in Wichita.
"His junior year he shows up and I'm thinking, 'All right, let's see what this kid is made of,'" Wildcats coach Brian Dinkel said. "And he turned out to be a dang good athlete. I wish we would have had him those other two years. I'd be curious to know how good he actually would have been (with more years of jumping experience)."
Linzy actually moved to De Soto from Sacramento, Calif., where he said, "there wasn't a lot of attention in the classroom. Most teachers didn't really care if you turned in your stuff. But switching to a smaller school (in Kansas) I got a lot more attention in the classroom and learned a lot more academically."
Not only was the attitude toward academics different for Linzy, but it seems so was the thought of high school sports.
"I never really thought about doing track," Linzy said. "My main focus was basketball, but I decided to come out for track to make me a better athlete. It took me a while to get down triple jump, but in the long jump, that was something that just came naturally for me. I can jump really high so I kind of figured I could jump pretty far."
According to Dinkel, with Linzy's natural athleticism, also came a natural willingness to learn.
Linzy quickly realized that his strides on the runway for long jumping began to benefit him on the basketball court.
"Following my junior year (of track and field) I was a lot faster and my body was a lot more under control," Linzy said. "My running style made me faster, so I could get by my defender a lot easier and could jump a little higher."
That knowledge has Linzy considering participating in track and field at Coffeyville, as long as it continues to improve his skills on the hardwood.
"I can see myself continuing on doing basketball and not wanting to quit," Linzy said. "With track, it's just nothing but running. And with basketball, at least I have a basketball to dribble."
Linzy looks to be leaving a lasting impression on long jumping at De Soto. He appears to be just the beginning of what Dinkel hopes to become a field event with a lot of history at the school.
"Since I've been there, he's the only one that's had this type of success. We've had kids in the past jump around 20 feet and place at some of the meets, but nobody that could go to state and compete for a state medal," the sixth-year coach said. "But I think Andre's the start of a long line of jumpers we've got coming up. Andre's kind of the leader of this whole group and hopefully we can keep it going."
Copyright 2018 The Lawrence Journal-World. All rights reserved. This material may not be published, broadcast, rewritten or redistributed. We strive to uphold our values for every story published.