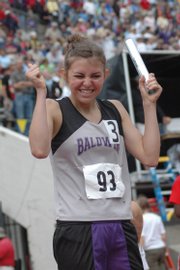 Heather Garcia nearly ended her phenomenal career at Baldwin High School with a storybook ending.
The BHS senior was less than one second away from sweeping her Class 4A events at the state track and field meet in Wichita in May. However, you wouldn't know she took home a silver medal in her final high school race.
"It was a really good senior year," Garcia said. "The best part of it was the state meet. I don't think it could have gone any better. That was a really nice ending."
It was her performances at the state meet and all season long that earned Garcia the all-area female track and field athlete of the year. Garcia won her third straight state championships in the 1,600- and 3,200-meter runs. She earned her silver in the 800-meter run, which was also her third consecutive in the race.
Her final gold medal of the meet came in 3,200-meter relay. She anchored the Bulldogs to the win and school record time of 9:41.09, despite trailing the leader by 70 meters with one lap remaining.
"The 4x800 has been the highlight of everything," Garcia said. "I never ran that at state, and I love the atmosphere of being on a relay. I did it for them, not necessarily for me, because they should be up there, too. It's really cool for them."
Garcia left Baldwin High School with 11 Class 4A state championships. Eight of those were individual state titles, two were team cross-country championships and the other was the 3,200 relay. BHS girls' track coach Ted Zuzzio knows he is losing one of Baldwin's all-time finest, who will be running on scholarship for Boston College next year.
"Heather is just a remarkable athlete, but an even better person," Zuzzio said. "She was a leader for us throughout her years. She helped her teammates get better with her work habit and leadership, which made coaching track these past four years very enjoyable.
"No one has accomplished as much as Heather in her career," he said. "It's not that she just was able to win state championships, but it's the quality of times that she ran in those races that is the difference between her and other state champions that we've had here. Last year she was within four seconds of setting three state records. When you fired the gun, you knew Heather was ready to run."
Copyright 2018 The Lawrence Journal-World. All rights reserved. This material may not be published, broadcast, rewritten or redistributed. We strive to uphold our values for every story published.