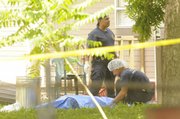 Taking photos at crime scenes is one part of the job no one likes, because you deal with a lot of emotions - not only yours, but family members, law enforcement and other media as well.
Last weekend's deadly shooting was particularly hard because one of the victims was left uncovered for a long time and could be clearly seen when taking a picture of the back of the home where much of the incident occurred. It took nearly eight hours before I was able to make the front-page picture and tell the story in an appropriate way.
I needed a picture of the scene, but something without a victim - the Journal-World and I don't like showing bodies out of respect for the victim and the family. I'm there to tell a story with a photo, so you have to be really careful. I also don't like standing around with other news agencies, because I want my work to be the best and not like everyone else's.
You have to have trust and respect with many law enforcement officials so you can do your work with little or no resistance. That's a bond that's made over years of work and enables one to make better photos and tell the story.
Some advice in this instance, it's important to move around using a long lens, instead of using a wide angle, which would force the photographer to get close and disturb the efforts of the law enforcement personnel.
About this series
"Behind the Lens" is a weekly look at photography, written by Journal-World staff photographers. Have an idea for the column? Contact Thad Allender, photo director, at 832-6359 or tallender@ljworld.com.
Copyright 2017 The Lawrence Journal-World. All rights reserved. This material may not be published, broadcast, rewritten or redistributed. We strive to uphold our values for every story published.