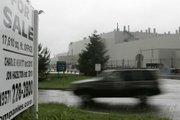 Wilmington, Del. — General Motors Corp. officially blew up its old business model Tuesday, closing four pickup truck and sport utility vehicle factories, announcing a new small car that could get 45 miles per gallon and shedding 8,350 jobs in the process.
Now the world's largest automaker by sales needs to figure out how it can sell enough cars to make money in a shrinking U.S. market and stay ahead of the bill collectors.
The automaker said it would idle pickup and SUV factories in Janesville, Wis.; Oshawa, Ontario; Moraine, Ohio; and Toluca, Mexico, as it tries to deal with a shift to smaller vehicles brought on by $4 per gallon gasoline. GM also took aim at the Hummer, one off the largest vehicles on U.S. highways, saying it would either be sold or get a remake.
The move cuts about 2,900 jobs in Oshawa, about 2,800 in Janesville, about 2,400 in Moraine and about 250 in Toluca, said GM spokesman Tom Wilkinson.
GM said the truck plant cuts, which will reduce capacity to produce pickups and large SUVs by about 35 percent, will save the company $1 billion per year, and when combined with earlier measures, by 2011 will save $15 billion over 2005 costs.
GM's moves, which come after a series of restructuring measures since 2005, are the result of a huge shift in U.S. consumer preferences for small cars and crossovers during the past two months.
"We at GM don't think this is a spike or temporary shift," Chief Executive Rick Wagoner said. "We believe that it is, by and large, permanent."
The automaker now will have to parlay its strong overseas sales and the lower North American costs into a profit by selling cars in the $15,000 to $20,000 range, half the price of its high-profit SUVs and pickup trucks.
"The new cars, they tend to price those accordingly," said Pete Hastings, senior analyst with Memphis, Tenn.-based Morgan Keegan & Co. "They tend to make money, just not as much money compared to the nice margins on the SUVs and large trucks."
Hastings is confident GM can pay bills and make money with its new North American cars, but that will be hard unless the U.S. economy recovers.
"I don't think they can get to profitability quickly if the economy stays where it is," he said.
GM lost $3.3 billion in the first quarter and burned through $3.4 billion in cash from January through March. Its May sales were down 28 percent compared with last May.
Copyright 2018 The Associated Press. All rights reserved. This material may not be published, broadcast, rewritten or redistributed. We strive to uphold our values for every story published.