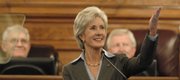 Kathleen Sebelius is the nominee for Secretary of Health and Human Services in Obama's Cabinet. She has served as Kansas' governor since 2002 and before that was insurance commissioner and a state representative.
Topeka — The recent announcement by Kansas University that Gov. Kathleen Sebelius had asked for budget cut proposals that KU leaders said would hurt students has caused a dust-up in the Capitol.
Sebelius strongly denied that she called for a budget cut.
She said she simply asked the Kansas Board of Regents, which prepares the higher education budget, to submit to her budget office spending plans that included possible budget cuts because of the state's worsening revenue picture.
Total receipts to the state for the fiscal year that ended June 30 were $41.4 million below projections, and the economy has slowed.
Memos obtained by the Lawrence Journal-World show how state officials have been approaching what is expected to be a tight budget when the Legislature convenes in January.
On June 27, Sebelius wrote to the regents, asking them to follow the same order she made in directing Cabinet agencies to find ways to cut 1 percent to 2 percent from the approved budget for fiscal year 2009, which started July 1.
"While I do not expect reductions to be made in key student education programs, I do hope that state universities, community colleges, and the Board of Regents will, along with Cabinet agencies, consider ways to find efficiencies and make reductions where possible," she wrote.
On July 11, Sebelius' budget director, Duane Goossen, went further, writing a follow-up to Reggie Robinson, president and chief executive officer of the Kansas Board of Regents.
Goossen requested that the regents submit a "reduced resource package" for fiscal year 2010, similar to what other agencies do. He said that would help determine that if the budget had to be cut, "what would be the most realistic and least damaging cuts to make?"
State agencies are asked each year, when submitting budget proposals to Sebelius, to provide a budget that shows no increase, a reduction, and an "enhancements" package.
In his letter to Robinson, Goossen included the same "budget instructions" that had been sent to all state agencies.
That attachment included this: "Reductions may still need to be made to your allocated amount, which is why you are requested to provide a reduced resource package of 5 percent, an amount higher than in recent years, but required by our current circumstances."
On July 14, Robinson wrote to the heads of all Kansas higher education institutions, asking them to produce a list of ways to make a 2 percent cut in the current fiscal year and a 5 percent cut in the next fiscal year.
"It will be important to describe the implications of those actions as well," Robinson said.
He said the regents would consider the submissions at their retreat Aug. 19-21.
He said the lists would help the board get a sense of how the schools would manage such reductions and what the impact of those cuts would be.
About a week after Robinson's letter, KU Provost Richard Lariviere announced that the state was asking the regents universities to cut budgets by up to 7 percent.
When asked to respond to that assertion, Sebelius said she had no intention of proposing budget cuts at this point, but only wanted the regents to participate in the same exercise as other state agencies in looking at ways to reduce expenses.
Sebelius said she hopes to stick to a promise she made in her 2002 campaign for her first term as governor, in which she said she wouldn't cut education or health care.
"I'm optimistic, at least hopeful, that we can keep that commitment," she said.
Copyright 2018 The Lawrence Journal-World. All rights reserved. This material may not be published, broadcast, rewritten or redistributed. We strive to uphold our values for every story published.