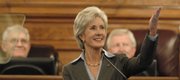 Kathleen Sebelius is the nominee for Secretary of Health and Human Services in Obama's Cabinet. She has served as Kansas' governor since 2002 and before that was insurance commissioner and a state representative.
Topeka — Gov. Kathleen Sebelius on Friday dismissed the notion that Kansas University would receive a 7 percent budget cut.
"I hope they will calm down," Sebelius said of higher education officials who sounded the alarm about potential cuts.
"There is no proposed budget cut of 7 percent. I'm frankly a little bit disappointed that that's how it has been highlighted."
And Donna Shank, chair of the Kansas Board of Regents, mirrored what the governor said - KU went overboard.
"We recognize that KU's public reaction to this guidance prematurely generated acute anxiety on this front," Shank said. "It's important to note that it's not yet certain that such reductions will ultimately be necessary."
Lynn Bretz, director of university communications, said late Friday in an e-mail tha the university had nothing to add to the governor's comments, except that the university hoped no cuts had to be made.
Earlier this week, Kansas University Provost Richard Lariviere said the state budget office asked universities to propose a 2 percent cut from this year's budget and 5 percent next year.
If enacted, that would equal a $14.7 million decrease, which KU leaders said would result in layoffs and cuts to some programs and services.
"Students will be affected by any major cuts we have to endure," Lariviere had said. "We're here for the students, so when the university's budget is cut, the students are affected."
But Sebelius said her budget office asked regents schools to follow the same budgeting guidelines that all state agencies have followed during the past several years by providing a proposed flat budget, reduced budget and enhanced budget.
This year, Sebelius said, she asked higher education institutions to participate in the same budget exercise as other state agencies because of state revenue problems that are expected during the next couple of years.
And, she said, she asked schools to consider cuts only in administration that would not affect students.
Sebelius said she was committed to not cutting education funding, although she said universities may face a no-increase budget next year because of tightening finances.
"We're going to have some tough decisions to make," she said.
She noted that during the past legislative session, higher education received its largest increase in 30 years.
"I do think it's unfortunate that a request that the same kind of look be made for possible savings was immediately put out as a 7 percent budget cut. That is not an accurate portrayal," she said.
Copyright 2018 The Lawrence Journal-World. All rights reserved. This material may not be published, broadcast, rewritten or redistributed. We strive to uphold our values for every story published.