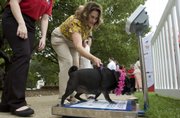 On the street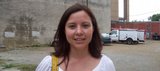 I have an overweight cat, but she has a bladder condition and has to eat special food the vet prescribed that makes her fat. Poor thing, her belly touches the ground, and she has such little paws and a little head for her body.
Topeka — Is your pet looking a little chubby these days?
Maybe it's those table scraps.
While a 1-ounce piece of cheese may seem like a small snack for you and me, it's more than a meal for a 20-pound dog. It would be like a person eating two and a half hamburgers. For a cat, it's even worse. It would be like eating three and a half hamburgers.
That's one of the things that Baylea Schuerman, a Washburn University student, learned during the PetFit tour that stopped Wednesday in Topeka.
Schuerman, who has three silky terriers and one miniature schnauzer, said she often feeds them table scraps when they give her that pitiful look. But she won't anymore.
She also said she was surprised to learn how unhealthy a few pounds can be for a pet. If a 30-pound beagle gains 5 pounds, that's like a 125-pound woman gaining 25 pounds. If a 14-pound cat gains 6 pounds, that's like the woman gaining 68 pounds.
The American Veterinary Medical Association and Hill's Pet Nutrition Inc. have teamed up for the PetFit tour, which began in January and ends in September in Washington, D.C. The PetFit tour aims to help educate people about the growing obesity epidemic among pets. Fifty-four million cats and dogs in the United States - or 35 percent - are overweight.
Dr. Ralph Schickel, a veterinarian with Hill's, said pets face the same weight problems as people: lack of proper nutrition, lack of exercise, plus huge portion sizes. He said owners tend to use coffee mugs or plastic cups for dishing out their pet's food instead of using a proper measuring cup.
Pets also should get a least 20 minutes of exercise a day and be fed twice a day; their food shouldn't be left out for grazing.
And while consumers check food labels for calories, fat and carbohydrates, they often forget to check the labels on pet food. There should be an AAFCO label, which stands for Association of American Feed Control Officials. Owners should make sure the food has been tested on animals, that it is for the appropriate age and that it meets the nutritional daily needs for that pet. Some labels note that the particular food is only for supplemental purposes.
Dr. Mark Marks, of Wakarusa Veterinary Hospital, said about 60 percent of the pets that visit his Lawrence practice are overweight and about 30 percent are obese. Just as with humans, losing weight for pets requires a lifestyle change.
"It's not as much about food as much as it is about behavior modification," he said. "You can teach a dog new tricks."
And if you feel the urge to give in to those furry beggars, think again.
"A lot of times, the begging for attention is misperceived by us humans as begging for food, so we give them way more treats rather than giving them a smaller amount of treats and exercising them as well," Schickel said.
Overweight dogs and cats are more susceptible to diabetes, arthritis, heart disease, high blood pressure and skin problems. Obesity can even shorten your pet's life.
Allison Horinek, of Topeka, was one of about 350 people who stopped by the PetFit tour. After visiting with Schickel and learning the facts about proper nutrition, she looked down at her 83-pound Weimaraner named Jasmine and said, "She won't be getting cheese anymore."
Join the challenge
Pet owners can click on PetFit.com to learn feeding and exercise tips. There are workout videos for cats and dogs. Also, owners can submit their own pet weight loss story for a chance to win America's Fittest Pet contest.
Copyright 2018 The Lawrence Journal-World. All rights reserved. This material may not be published, broadcast, rewritten or redistributed. We strive to uphold our values for every story published.