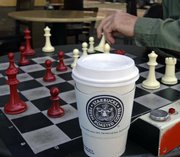 -->
Seattle — Starbucks continues to shrink its empire in an effort to turn around profits and a stagnant stock price.
The Seattle coffee company announced Tuesday afternoon that it will close approximately 600 underperforming company-operated stores in the United States in the next nine months, 500 more than it had already targeted.
It also expects to open fewer than 200 new U.S. company-operated stores during its 2009 fiscal year, which starts Oct. 1.
"In January, we committed to transforming the company through a series of critical and strategic initiatives to improve the current state of our U.S. business and build the business for the long term," Howard Schultz, chairman, president and chief executive, said in a prepared statement.
The closures are "significant, but a relatively small percentage of the store base," said John Owens, an analyst at the research firm Morningstar in Chicago.
"By most companies' standards, it looks like a really big number, but the extra 500 stores represent about 7 percent of U.S. company-operated stores, 4 percent of total U.S. stores and 3 percent of global stores," Owens said.
Nearly three-quarters of the stores being closed were opened since October 2005, the company said. That means about one in five stores open since then are being shuttered, Owens figured.
"They probably made some poor real estate decisions, and when they opened stores in fiscal 2006, they probably didn't anticipate how tough the economy would be and how the brand would be struggling," he said.
Starbucks said it would try to find jobs within the company for those working at the stores that would be closing.
In Lawrence
While Starbucks officials have not disclosed the locations of the 600 underperforming company-operated shops that will be closing in coming months, employees at the Starbucks in downtown Lawrence were confident Tuesday that their place wouldn't be on the list - both because they hadn't heard any specific news about the impending closures, and because theirs is the lone company-operated shop in town.
Julianna Bowman, a Starbucks spokeswoman, said closure notifications were making their way to affected stores late Tuesday and would continue for some time.
Starbucks said Tuesday that 70 percent of the stores to be closed had been opened since October 2005. The Lawrence store, which now has 17 employees, opened in December 2001.
Copyright 2018 The Lawrence Journal-World. All rights reserved. This material may not be published, broadcast, rewritten or redistributed. We strive to uphold our values for every story published.