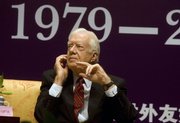 Lawrence delegates
First Baptist Church in Lawrence, 1330 Kasold Drive, is represented at the Celebration of a New Baptist Covenant. Those attending the event from that church include the Rev. Marcus McFaul and his wife, Amy; the Rev. Sandy Walton; and members Bill and Margaret Arnold.
Weary of Southern Baptists' dominance in American Protestantism, a new push is starting by other Baptist groups aimed at working on social justice issues, and showing their religious tradition is broader than the conservative SBC. Former President Jimmy Carter is leading the effort.
More than 10,000 moderate and liberal Baptists are expected for three days starting today in Atlanta for the "Celebration of a New Baptist Covenant." Organizers aren't forming a new denomination, but want to develop common ministries that would have a big impact.
Carter, a longtime Bible teacher at his Plains, Ga., church, hopes the event will "solidify the image of Baptists and Christians being able to cooperate with other."
"We're not going to delve into past divisions," Carter told The Associated Press. "We're going to try to show we can work in harmony."
The meeting is taking place just days before Feb. 5, when 24 states hold delegate-rich presidential primaries and caucuses. Baptists organizers say the timing is coincidental; they began planning the Atlanta event about two years ago before the primary schedule was set.
"This has not anything to do with Super Tuesday," Carter said.
Yet the biggest Baptist names at the event are prominent Democrats. Along with Carter, major speakers include former Vice President Al Gore and former President Bill Clinton, who has played a leading and provocative role in the presidential race of his wife, Sen. Hillary Rodham Clinton.
Republican Sen. Charles Grassley of Iowa will address the meeting, but former Arkansas Gov. Mike Huckabee, a Southern Baptist minister and GOP candidate for president, had agreed to participate, then canceled.
Conservatives waged a long, vicious campaign for control of the Southern Baptist Convention in the 1970s and '80s to wipe out any moderate or liberal thinking in seminaries, churches and Baptist agencies. Paul Pressler, a retired Texas judge and one of the leaders of the purge, famously said that conservatives were "going for the jugular" for the cause.
With 16.3 million members, the denomination is not only the largest U.S. Baptist group but also the largest Protestant group in the country.
SBC leaders were asked to participate but declined.
The 30 groups joining the new covenant effort say they represent millions of Baptists. Among them are historically black Baptist denominations, which produced many civil rights leaders, including the Rev. Martin Luther King Jr.
"This is an opportunity to correct what should have happened long ago," said the Rev. William Shaw, president of the National Baptist Convention USA, Inc., the largest black Baptist group. Northern and Southern Baptists split in 1845, when Northerners said they wouldn't support missionaries who were slaveholders. Black Baptists generally formed their own denominations, and had their own splits over civil rights strategies and other differences.
The groups meeting in Atlanta span a range of beliefs on theological and political issues, and have diverse styles of worship. Many oppose abortion and gay marriage, and several groups only ordain men.
However, they also heavily emphasize Bible teaching on social justice. The gathering will spend a significant amount of time discussing poverty, health and other policy concerns, along with talks on preaching and the Gospel.
Copyright 2018 The Associated Press. All rights reserved. This material may not be published, broadcast, rewritten or redistributed. We strive to uphold our values for every story published.