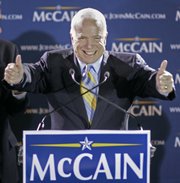 Washington — Florida voters propelled John McCain to the front of the race for the Republican presidential nomination on Tuesday with a breakthrough victory in a pivotal primary before next week's Super Tuesday contests.
"Florida has always been a special place to me, and it is all the more so tonight," McCain told supporters at a celebration in Miami. "Our victory might not have reached landslide proportions, but it is sweet nonetheless."
The clear outcome of the suspenseful four-man Republican race in Florida crushed the hopes of Rudy Giuliani, who reportedly plans to drop out of the race and endorse McCain in California today.
In the Florida Democratic primary, Hillary Clinton overwhelmed rivals Barack Obama and John Edwards to win a contest without campaign appearances. Ending a five-month Democratic boycott of the state, she thanked supporters at a rally in Davie "for this vote of confidence you have given me."
With microphone in hand, she told the sign-waving crowd: "I promise you I will do everything I can to make sure that not only will Florida Democratic delegates be seated, but that Florida is in the winning column for Democrats in 2008!"
Florida, a battleground in recent presidential elections, crowned a frontrunner in this year's Republican primary campaign while giving a boost to Clinton, who is struggling to seize the Democratic nomination.
McCain came away with all 57 Florida delegates to the party's nominating convention as well as momentum leading into the round of 22 primaries on Super Tuesday. Clinton got no delegates in Florida but bragging rights and backing from Democrats in the fourth largest state.
Mitt Romney, who finished second in Florida, and Mike Huckabee, who finished fourth behind Giuliani, vowed to move on to compete in the Super Tuesday states.
McCain, who staked his political fortunes on promoting the war against terrorism and President Bush's troop surge in Iraq, gathered support from fellow military veterans throughout the state. Many voters were drawn to his claim that a straight-talking experienced leader offered the best hope for reforming Washington.
"I like his conservative approach to foreign policy and tax cuts, but I also like his moderate approach to social issues," said Jim Naughton, 35, an attorney who voted in Boca Raton. "Republicans have spent too much time lately on too much spending, which has increased the size of government. McCain wants to take it back to less spending and smaller government, which is what I like."
Both state parties were punished for violating national party rules by holding a primary in January. Republicans lost half their delegates. Democrats were left with none.
The non-campaign left Clinton in charge. She was the well-known candidate backed by the party establishment with an extensive campaign network in place before the ban.
Obama, a charismatic new phenomenon on the national stage, had no opportunity to reach out to Florida voters because of the campaign ban. And Edwards never made a pitch for Florida votes.
Copyright 2018 The Lawrence Journal-World. All rights reserved. This material may not be published, broadcast, rewritten or redistributed. We strive to uphold our values for every story published.