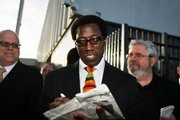 Ocala, Fla. — Even Hollywood couldn't have written a more ideal script for the Internal Revenue Service than actor Wesley Snipes' tax-fraud trial.
At a time when millions of Americans are buckling down to prepare their taxes, Snipes is being cast as a villainous example of the dangers of joining with Internet-fueled activists who claim the IRS has no authority to collect taxes.
Snipes, the star of the "Blade" films and "White Men Can't Jump," is on trial with two tax protesters in one of the biggest criminal cases in IRS history, and the agency hopes the media attention on the matter will dissuade others in the "tax avoidance" movement from trying to outwit the government.
Snipes, 45, could get up to 16 years in prison if convicted on all counts, although sentences that long are unusual.
"I've always been paying my taxes; I've always been trying to comply," Snipes said Tuesday in his first substantive public comment since the trial began. "The question is if they tell you what you're supposed to do. We need to go to our government and get clear answers."
His two co-defendants are an anti-tax ideologue, Eddie Ray Kahn, who refuses to defend himself in court and an accountant, Douglas P. Rosile, who lost his licenses. The trio rested their defense Monday without calling any witnesses, saying they didn't need to.
"Nobody likes paying taxes, but paying taxes is the price we pay to live in a civilized society," Assistant U.S. Attorney M. Scotland Morris said Tuesday in closing arguments. "And it's the law, and that's what this case is about. It's about three men who felt they were above the law."
Defense attorney Robert Barnes conceded Snipes' arguments may have been crazy, but insisted that didn't make them criminal.
"Disagreement with the IRS is not fraud of the IRS, is not deception," Barnes said. "It was an attempt to engage the IRS, to go through the IRS procedures and processes and see who's right."
In lengthy filings to the IRS, the three defendants claimed they did not legally have to pay taxes, citing an obscure section of the tax code that establishes that foreign sources of income for U.S. citizens are taxable. Protesters take that to mean only foreign sources are taxable, and wages made in this country are not.
"They string unconnected things together in a way that they're just not intended to be strung together," said Chris Rizek, a former Treasury Department lawyer who specialized in tax policy. "And the courts have repeatedly said 'No, that's the wrong interpretation, listen to this.' And they just don't listen."
Snipes, who is free on $1 million bond, was paying millions in federal income taxes until 2000 when, according to prosecutors, he accepted the arguments of his two co-defendants. Snipes then allegedly began seeking nearly $12 million in illegal refunds for taxes he already paid.
Jury deliberations will continue today.
Copyright 2017 The Associated Press. All rights reserved. This material may not be published, broadcast, rewritten or redistributed. We strive to uphold our values for every story published.