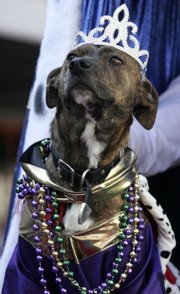 New Orleans — Carnival season in New Orleans is the prime time to see all the crazy people. Just add their dogs to the mix, as they did Sunday, and it becomes the annual Krewe of Barkus parade.
Hundreds of dogs and their owners paraded in the French Quarter. Human and beast alike were dressed for the occasion. Popular outfits for the four-legged set included frilly collars and tutus, sweaters and hats.
Amber Scott and her boxer, Roxy, were clad in she-and-doggie matching bumblebee outfits. For Scott, it was her first venture to the parade, which has been held since the early 1990s.
"It's a really good time," Scott said. "They were right about the weather for once."
After several days of rainy, cold conditions, the skies seemed to turn blue shortly before the krewe marched and the afternoon transformed into a dry, pleasantly chilly affair.
There were more breeds represented than not - every imaginable variety of terrier, collie, at least one St. Bernard, a golden retriever and numerous participants of obviously mixed variety.
They walked on leashes and rode on floats, mostly consisting of small decorated wagons that were pulled or pushed by their owners. In the parade tradition, standard-bearers walked in front of some of the floats.
One banner proclaimed "Indiana Bones and the Raiders of the Lost Bark."
Johnny and Nicole Mezaraups marched their two dogs - one a fullbred Dalmatian named Beau and the other a part-Dalmatian named Natty - both of which came from a rescue program.
The couple said Beau had intended to wear a jacket of Louisiana State University - the national football champions - but he seemed too intent on chewing it up.
Copyright 2018 The Associated Press. All rights reserved. This material may not be published, broadcast, rewritten or redistributed. We strive to uphold our values for every story published.