Photo Gallery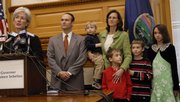 Lawrence judge named new AG
Topeka — Gov. Kathleen Sebelius on Friday selected a little-known judge with scant political experience to one of the most important positions in state government at a time when the job has been rocked by scandal.
But those who know Douglas County District Court Judge Stephen Six say he is up to the task.
"He is a person of enormous integrity," said state Rep. Paul Davis, D-Lawrence, an attorney who has known Six for 15 years. "He is one of the best legal minds in Kansas, and I think that he is going to restore some very much-needed stability in that office."
Sebelius hopes Six, a Lawrence resident, will help the public forget about current Attorney General Paul Morrison, whom Sebelius helped lure to the Democratic Party.
After Morrison trounced incumbent Republican Phill Kline, an anti-abortion advocate, in 2006, he was treated like a rock star in the Kansas Democratic Party.
But Morrison's career dropped like a rock after recently admitting to a two-year affair with a subordinate who is accusing him of sexual harassment and ethical improprieties. He denies the allegations of harassment and improper conduct, but faces several investigations and announced he would resign.
At a packed news conference Friday, Sebelius focused on Six and didn't mention Morrison.
"I'm confident that in Judge Six, the people of Kansas have an attorney general dedicated to ensuring that the people's law firm is led both effectively and responsibly with character and integrity," Sebelius said.
Sebelius' message was clear - Six's mission was to restore order to an office that she conceded "has been through some turmoil."
Family roots
Six, 42, the son of retired Kansas Supreme Court Justice Fred Six, promised "to serve with integrity as an independent representative of the people of Kansas."
He will take office Jan. 31 to finish the three years left on Morrison's term.
Flanked by his wife, Betsy, a lecturer at Kansas University law school, and their four children, Six talked about the lessons handed down from his grandfather and father.
"You gain a reputation by your actions and you live with that reputation," he said.
Washburn University political science professor Bob Beatty said Six "was laying it on the line, with four generations of his family, that he was not going to embarrass them."
Six grew up in Lawrence and received his law degree from KU, graduating second in his class. He clerked for U.S. Court of Appeals Judge Deanell Tacha, a Lawrence resident.
In 2005, Six was appointed to the bench by Sebelius. Before being named a judge, Six was a plaintiff's attorney in the firm of Shamberg, Johnson & Bergman.
In his short time on the bench, Six presided over two headline-grabbing cases, rejecting motions for dismissal in each. The first was that of Robert W. Richardson II, a Lawrence man convicted of exposing three women to HIV. Six sentenced him to 32 months in prison. The other is Meredith Kane, the Lawrence High School teacher convicted of having sex with a 15-year-old student. Six sentenced her to 59 months in prison.
Legal foundation
His law school professors remember Six as an intelligent student who was well organized, efficient and respected by classmates.
Longtime KU law professor Bill Westerbeke said Sebelius made the right choice.
"In terms of doing that job and doing it well, he has the intelligence, judgment, even-handedness and fairness that is really called for," Westerbeke said.
Another professor said Six's father has advocated for lawyers to be committed to public service.
"I think that kind of background would certainly lend someone to thinking that they wanted to do public service types of work," said Sandra McKenzie, a KU law professor.
His father's influence may have helped chart Six's move from a plaintiff's attorney to judge and now to attorney general, she said.
But McKenzie has not associated Six much with the political arena.
"Based on the last few attorney generals, you have to have some taste for publicity and being in the public eye. That's not what I would think of when I thought of Stephen," she said.
Sebelius was likely looking for someone to restore public trust and focus on business, observers have said.
"He certainly has those qualities," McKenzie said.
Election plans?
At the news conference, Six didn't look too comfortable.
He declined to say whether he'd stand for election in 2010, although Sebelius said she hoped he would.
"Today is not the day to talk politics. I plan to get to work," he said.
Asked about what he thought about the state's abortion law, Six said, "In Kansas, abortions are legal with appropriate restrictions, and I think the current law serves us well."
After the news conference, Six met with Morrison to talk about the status of cases at the agency. Morrison has filed misdemeanor charges against Dr. George Tiller, alleging Tiller violated the late-term abortion law. Tiller has denied the charges.
Once sworn into office, Six will actually take a pay cut of nearly $22,000 per year to become attorney general: from $118,297 as a judge to $96,489.
Kansas Republican Party executive director Christian Morgan said he didn't know much about Six.
"I'm honestly just glad that the governor finally came around, found some time between Vogue photo shoots and Washington, D.C., cocktail parties to make an appointment," Morgan said.
Kansans for Life, who oppose abortion, said they didn't know anything about Six but reaffirmed their dislike for Sebelius and they noted that between 1998 and 2002, Six contributed $950 to Sebelius.
Administrator
Six's lack of experience as a criminal prosecutor did not deter Sebelius from picking him. Westerbeke said Six's job as attorney general would mostly require an administrative role in directing staff. The office also handles civil cases and provides opinions.
"He will not be political in how he decides questions," Westerbeke said.
Senate Minority Leader Anthony Hensley, of Topeka, said Six seemed like "the right person at the right time."
A veteran legislator, Hensley, a Democrat, said Kansas has had a history of attorney generals who were "characters." He said that has produced mixed results and maybe it was time to go with someone more even-keeled.
Stephen Six
Stephen N. Six
Residence: Lawrence
Age: 42
Party affiliation: Democrat
Education: Undergraduate degree in 1988 from Carleton College in Northfield, Minn. Law degree from Kansas University School of Law in 1993. He was a note and comment editor on the Kansas Law Review, a member of the Order of the Coif honors society, and a Rice Foundation Scholarship recipient.
Career: Served as a clerk in 1993 and 1994 for U.S. 10th Circuit Court of Appeals Judge Deanell Tacha; worked in private practice for 10 years and was a partner with Shamberg, Johnson and Bergman; was appointed in 2005 to be district judge in Douglas County by Gov. Kathleen Sebelius.
Organizations: Served on the Kansas Bar Association board of governors; Kansas Bar Foundation Board of Trustees; chairman of the Mandatory Malpractice Disclosure Committee; and the Bench-Bar Committee for the U.S. District Court, Kansas District.
Family: Married to Betsy Brand Six, a lecturer at KU School of Law. They have four children: Emily, 9; Sam, 8; Henry, 5; and Will, 2. Six is the son of retired Kansas Supreme Court Justice Fred Six, who served from 1988 to 2003.
Copyright 2017 The Lawrence Journal-World. All rights reserved. This material may not be published, broadcast, rewritten or redistributed. We strive to uphold our values for every story published.