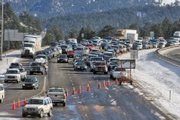 Denver — Wind-whipped snow and avalanche danger closed the main highway through the Colorado mountains for most of Monday, stranding thousands of travelers as they headed to New Year's Eve celebrations.
Portions of a 60-mile stretch of Interstate 70 - the main route between Denver and some of the state's biggest ski resorts - were shut down in both directions from about 5 p.m. Sunday until about 4 p.m. Monday.
The long delay had some travelers contemplating the prospect of welcoming the new year on a cot in a shelter.
"I've got some (champagne) in the car, but it's probably frozen by now," said Ken Simons, of Grand Junction. He and his wife were trying to get to Denver for New Year's when the closing of the highway forced them and more than 2,000 others to spend Sunday night in shelters.
Liquor stores did a brisk business. "We've definitely seen a rush," said John Will of Antler's Discount Liquor in Frisco. "People are coming in complaining that they are stuck" or caught in slow-moving traffic.
Leaha Widrowicz was trying to get back to Fort Lauderdale, Fla., with her boyfriend and his mother after a skiing trip but had to spend the night in Frisco, missing their midnight flight from Denver International Airport.
"We're not even thinking of New Year's right now," Widrowicz said. "We are just trying to get home to family."
High winds piled deep snow into more than two dozen narrow ravines in the mountainsides - known as avalanche chutes - raising the danger of deadly avalanches cascading onto I-70. Blowing snow reduced visibility to nearly zero.
Authorities cleared out that snow before letting traffic through again.
Wind gusts at the Eisenhower Tunnel, where the interstate passes under the Continental Divide at 11,000 feet above sea level, reached 70 mph.
In Utah, an avalanche at a trailhead Monday swept away a snowmobiler, authorities said. The man was rushed to a hospital in Provo, said Kim Butler, a Wasatch County sheriff's officer. His condition was not available Monday night.
Authorities had warned of the danger of avalanches in Utah's backcountry, where thousands of people were expected to ski, hike and snowmobile on New Year's Day. Avalanches there have already claimed two lives this season.
Copyright 2018 The Associated Press. All rights reserved. This material may not be published, broadcast, rewritten or redistributed. We strive to uphold our values for every story published.