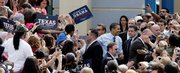 Dallas — The U.S. Secret Service on Friday defended its handling of security during a massive rally in downtown Dallas for Barack Obama, saying there was no "lapse" in their "comprehensive and layered security plan" which called for some people to be checked for weapons, while others were not.
A report in the Fort Worth Star-Telegram that said some security measures were lifted during Wednesday's rally sparked a public outrage across the country, with most people saying they were shocked that a routine weapons search was lifted at the front gates of Reunion Arena an hour before the Democratic presidential candidate took the stage.
"This relaxed security was unbelievably stupid, especially in Dallas," Jeff Adams, of Berkeley, Calif., said in an e-mail, noting the assassination of President Kennedy in Dallas more than four decades ago.
Others said they had attended large political events in the recent past, many of them for Obama, where security screening was halted.
Jeremy Dibbell said in an e-mail that he attended an Obama event in Boston and "the same thing happened there. We waited for hours in line as people were screened, and then suddenly everyone was just allowed in without going through any inspection at all."
Nick Shapiro, a spokesman for Obama in Texas said the campaign would have no comment on whether there was a security breach in Dallas. He referred questions to the Secret Service.
Jessica Santillo, spokeswoman for Hillary Rodham Clinton in Texas, said only that the campaign works with the Secret Service to "protect the safety of everyone who attends our campaign events."
Eric Zahren, a spokesman for the Secret Service in Washington, said precautionary measures went down as planned for the Obama rally. "There were no security lapses at that venue," Zahren said, There was "no deviation" from the "comprehensive and layered" plan, implemented in "very close cooperation with our law enforcement partners," he added.
Zahren refuted suggestions by several Dallas police officers at the rally who thought the Secret Service ordered a halt to the time-consuming weapons check because long lines were moving slowly, and many seats remained empty as time was nearing for Obama to appear.
"It was never a part of the plan at this particular venue to have each and every person in the crowd pass through the Magnetometer," said Zahren, referring to the device used to detect metal in clothing and bags.
He declined to give the reason for checking people for weapons at the front of the lines, and letting those further back go in without inspection.
"We would not want, by providing those details, to have people trying to derive ways in which they could defeat the security at any particular venue," Zahren said.
Asked if the Secret Service would re-evaluate their security procedures at such events, he said: "We're always re-evaluating security measures ... and we make adjustments as necessary."
The Dallas Police Department said in a statement that the Obama rally in Dallas was a "success from a police standpoint." Lt. V.L. Hale III, a spokesman for the force, also said in the statement that city officers were not in charge of the metal detectors. He declined further comment on security issues.
Copyright 2018 The Lawrence Journal-World. All rights reserved. This material may not be published, broadcast, rewritten or redistributed. We strive to uphold our values for every story published.