Photo Gallery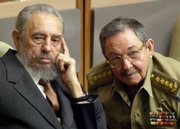 Castro steps down
-->
Cuban President Fidel Castro's announcement Tuesday that he would resign after nearly a half-century in power may be grabbing international attention, but at the Overbrook grain elevator it registered little more than a yawn.
At least for now.
"I don't see their name in any big way on any sales export list," said Matthew Vajnar, grain merchandiser for the Ottawa Co-op Assn., working Tuesday in Overbrook.
That said, Castro's decision could open up markets for Kansas businesses, said U.S. Rep. Jerry Moran, R-Kan., who helped lead the way to a limited opening of agricultural markets in 2000, when Congress passed a law allowing Cuba to pay cash for certain grains and food products.
From that time through 2006, qualifying U.S. exports to Cuba have amounted to $1.55 billion, according to the U.S.-Cuba Trade and Economic Council.
Moran would like to see market restrictions lifted so that Cubans could enjoy freedoms brought on by trade. Such trade pressure, then, would put more pressure on the Cuban government to make reforms.
Besides, Moran said, restrictions simply drive up the price of U.S. goods relative to those from competing suppliers.
"There's no reason for our farmers - American farmers, Kansas farmers - to pay a price for our foreign policy," Moran said Tuesday, in Kansas for town hall meetings in Garden City and Cimarron.
At the co-op, Vajnar receives export reports each week, showing where grain shipments are headed. For corn, it's typically to Asia, including Taiwan and Korea; soybeans increasingly are sold to China; and wheat goes to several major international markets.
Issues in Cuba - whether they're related to political problems or purchasing proposals - are yet to have a "macro" effect on grain markets, Vajnar said.
"If Cuba's on there," Vajnar said, "it's not a big deal."
Agriculture officials remain hopeful that a shift away from Castro's leadership could signal a more open market for Kansas crops.
The U.S.-Cuba Trade and Economic Council said that in 2006, Cuba spent $125.7 million to import three major crops from the United States: $51.4 million for wheat, $42.6 million for corn and $31.7 million for soybeans.
All three are major crops in Kansas. Corn and soybeans are the two major crops in Douglas County.
Grain exports to Cuba have come despite a trade embargo with the communist nation. The trade barrier has been in place for nearly 50 years.
"Although I think there's an opportunity for Cuba to buy more grain from the U.S., it's a competitive market, just like any other market," said Becki Rhoades, international marketing specialist for agriculture with the Kansas Department of Commerce.
Wheat just happens to be trading above $10 a bushel now in the United States, and much higher in selected areas, Rhoades said. Even with the U.S. dollar being relatively weak against other currencies, the high price might be enough to scare away Cuban buyers even if trade restrictions would ease up.
"For now, we'll all keep doing business as we are and see how things play out," she said.
Copyright 2018 The Lawrence Journal-World. All rights reserved. This material may not be published, broadcast, rewritten or redistributed. We strive to uphold our values for every story published.