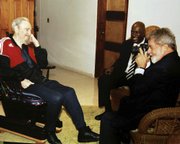 Havana — Fidel Castro looked frail but alert and even playful in a series of official photographs taken during a meeting with Brazil's president on Tuesday, the first images of the ailing Cuban leader released in about three months.
Wearing a tracksuit and tennis shoes that have become his trademark since he fell ill, Castro is seen seated and grinning, his beard well-trimmed and his hair combed as he talks with President Luiz Inacio Lula da Silva. In some images, Castro is seen pretending to snap pictures with a small camera.
The photos of Castro were the first since October, when he met with his good friend and socialist ally, Venezuelan President Hugo Chavez.
Silva said he and Castro met for two and a half hours and "conversed about all topics."
"He has incredible lucidity and impeccable health," the Brazilian president said. "He's as lucid as in his best moments."
Lula said he felt Castro "would soon take on a political role in Cuba" and while he provided no specifics, he may have been hinting that the 81-year-old could remain as head of Cuba's supreme governing body, the Council of State, rather than prematurely retiring.
Castro has not been seen in public since emergency intestinal surgery forced him to cede power to a provisional government headed by his younger brother Raul in July 2006. But he remains head of the council and is running in parliamentary elections Sunday, a necessary step if he is to hold on to Cuba's top post.
His condition and exact ailment are state secrets.
Copyright 2018 The Associated Press. All rights reserved. This material may not be published, broadcast, rewritten or redistributed. We strive to uphold our values for every story published.