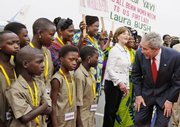 Dar es Salaam, Tanzania — President Bush is betting Congress will hear him better from the heart of Africa than it does from down the street in Washington.
Foreign aid programs that Bush sees as crowning achievements - and which he holds dear - are having their spending levels questioned on Capitol Hill. By visiting Africa for six days to showcase their results, Bush aims to change that in the short term and secure the programs' future beyond his presidency.
His first stop Saturday was Benin, a tiny sliver on West Africa's coast. Hundreds of millions of U.S. dollars are helping to pay for an aggressive anti-malaria campaign, the training of tens of thousands of teachers and reforms to Benin's judiciary, port and financial systems.
"My trip here is a way to remind future presidents and future Congresses that it is in the national interest and in the moral interests of the United States of America to help people," Bush said.
The first American president to visit Benin, Bush spent three hours at the airport in Cotonou. He promoted progress in the country and then flew across the continent to Tanzania after his plane refueled,
Today and Monday, Bush planned to highlight a new aid pact with Tanzania as well as U.S.-funded efforts on AIDS, malaria and education.
Bush also goes to Rwanda, Ghana and Liberia. Like Benin and Tanzania, they are desperately poor but making strides, with U.S. help, on economic growth, the rule of law and better living conditions.
The president's aid programs are a shift from the past and generally have drawn bipartisan support in Washington.
His five-year, $15 billion AIDS relief plan is the largest-ever international health initiative devoted to one disease, raising the number of people on anti-retroviral treatments from 50,000 to 1.3 million.
A five-year, $1.2 billion anti-malaria initiative has reached 25 million Africans with insecticide-treated bed nets, a simple but effective solution to a deadly problem.
One foreign aid program started under Bush, the Millennium Challenge Corp., limits U.S. development assistance only to nations that embrace democracy and free markets, fight corruption and invest in education and health. It has approved $5.5 billion in compacts with 16 countries, nine in Africa.
Programs such as these have kept the United States relatively popular in Africa, unlike throughout the rest of the world. Yet even ordinary people here consistently express surprise, as have Africa experts at home, at Bush's largesse. Bush was asked by a Beninese reporter whether his visit was "a stunt."
Thousands of people lined Bush's motorcade route the entire way in from the airport in Dar es Salaam. He was greeted by dancers in tan shirts bearing his likeness and waving American flags.
Bush wants $30 billion over the next five years for his AIDS program. Democrats complain that is too little and there is debate about its emphasis on abstinence and requirement of anti-prostitution pledges.
His Millennium Challenge approach is more threatened, in part because of a slow initial pace of getting the money out. Lawmakers gave it $1.5 billion for the last budget year, half of Bush's request, and seem to be similarly inclined this year.
Lobbying for it from Benin, Bush said it is a more effective way of helping Africa - by helping countries there help themselves.
"I reject some of the old-style type of grants, which basically said, let's feel better, we'll just give some money out," he said. "We believe that rather than making ourselves feel better, that our money ought to make the people of a particular country feel better about their government."
He has called the program an alternative giving because of either "guilt" over colonialism or "gluttony" for Africa's many resources. Maintaining the program as U.S. policy after he leaves office next January is a priority.
Copyright 2018 The Associated Press. All rights reserved. This material may not be published, broadcast, rewritten or redistributed. We strive to uphold our values for every story published.