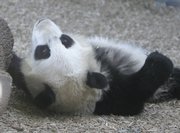 Atlanta — Zoo Atlanta is hoping to hear the pitter-patter of little panda paws again.
Now that giant panda cub Mei Lan is old enough to be weaned, zookeepers hope her mother, Lun Lun, is ready to mate again. If all goes as planned, Lun Lun will become pregnant this spring and deliver Zoo Atlanta's second giant panda cub at the end of the summer.
But that's a giant panda-sized "if."
Panda pregnancy is fraught with uncertainty. Most panda mothers ovulate about six weeks after their cubs wean, but there's no guarantee, said Rebecca Snyder, curator of carnivores at Zoo Atlanta.
And Lun Lun and her partner, Yang Yang, don't have a history of successful mating. Zoo vets will be ready for an artificial insemination; that's how Mei Lan was conceived in 2006.
Mei Lan's birth was a landmark event for the zoo, drawing in thousands of visitors and generating a huge number of hits on the online panda cam.
The zoo plans to begin weaning the 17-month-old Mei Lan from her mother next week, a process that mirrors giant panda behavior in the wild, Snyder said. The cub, who now weighs a whopping 80 pounds, will be separated from Lun Lun for longer and longer periods over two weeks until the two are permanently kept apart, starting sometime in March.
The cub will be kept in a part of the zoo's panda habitat by herself once she is weaned completely, Snyder said.
The San Diego Zoo, which has had the most success breeding pandas, had its third cub in August.
The National Zoo in Washington and Memphis Zoo also have pandas.
Copyright 2018 The Associated Press. All rights reserved. This material may not be published, broadcast, rewritten or redistributed. We strive to uphold our values for every story published.