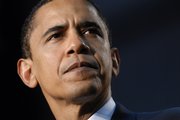 About this series
"Behind the Lens" is a weekly look at photography, written by Journal-World staff photographers. Have an idea for the column? Contact Thad Allender, photo director, at 832-6359 or tallender@ljworld.com or fax details to 843-4512.
Megapixel, shutter speed, flash, aperture - all things you tend to think about when you think photography.
And those are all fine and dandy. Mastering the technical side is a must if you want to make good pictures.
But something you might not think about is proximity.
One of the great war photographers of the 20th century, Robert Capa, once said, "If your pictures aren't good enough, you're not close enough." Well, we all aren't covering wars, but this mantra should resonate with every photographer, whether you're photographing a family reunion, your son's wrestling match or a political event. 'Tis the season, after all.
Campaign trail
It's Tuesday. My day off.
Presidential hopeful Barack Obama is having a rally in El Dorado at the Butler County Community College gym.
The day before, I catch wind that a fellow reporter is heading that direction to do a story. He is kind enough to let me ride shotgun.
Why not, right? It's not like I had ever covered anything like this before. Sure, some town elections and even some governors, but nothing with this much spark.
I really don't know what to expect. I mean, you see these things on TV, and it all looks very organized. What those TV crews aren't showing you are the throngs and throngs of cameramen, shoulder-to-shoulder, lining the gym or wherever the rally is taking place. Squished between those cameramen are newspaper photographers wielding lenses the sizes of anchors (myself included). And cramped even farther behind are the word reporters and citizens, setting up tripods with camcorders to capture the speech.
That's a lot of cameras.
So, how do I set myself apart from this flock?
I gotta get close.
So I make my way up an aisle on the floor seating, kneel down and wait. I spend the next hour on my knees - and they hated me for it the next day. I'm not really supposed to be here, but I think the smug FBI agents turn a blind eye. I figure it's this, or stand in the back of the room with a long lens to get the same shot as everyone else in the room.
When Obama finally shows, I'm not expecting the bum-rush of fans out of their seats. I'm left dazed, several places behind the front of the line. At least the FBI sees it coming.
A bunch of good that hour of planning and waiting does.
I make what pictures I can as the senator passes by us and begins his speech on stage, continuing to shoot as the crowd settles back into their seats.
About halfway through, though, I feel a tap, tap, tap on my shoulder.
"Can you please make room for other photographers?" a campaign aide asks, pointing me to the back of the room.
"Sure," I say, collecting my gear and heading to the back of the room, but thinking entirely different thoughts as I was booted from my spot. Believe me.
But no, I'm not giving up. This is my chance to cover the election, and I'm not going down that easy.
I head to another aisle on the floor and am let in by accommodating security.
Thank you, thank you, thank you.
Obama finishes his speech and comes down to shake more hands before jetting off to his next appearance. I'm able to make some more pictures, this time, really close. I figure, the closer I am to Obama, the better my chances to capture a moment between him and a supporter. A genuine moment, rather than the on-stage stuff.
Daily life
While not every situation you want to photograph has you jostling with 40 other photographers to get a shot on the campaign trail, don't forget about getting closer. And I'm not talking about zooming in. Zooming in your digital camera is no substitute for moving your physical self closer to the action, closer to the moment, closer to your child.
Say you're photographing your baby. Instead of including their whole body in the picture, try moving in.
Some of the more interesting children portraits are taken from very close proximity and focused on the details.
Think about what moves you - their eyes staring into yours; their; clasped hands under their head as they zonk out after an afternoon of playing; maybe the way they kick their bare feet in the air on summer day while sitting on the edge of a dock.
Those small little slices of life are often what get your heart beating.
Copyright 2018 The Lawrence Journal-World. All rights reserved. This material may not be published, broadcast, rewritten or redistributed. We strive to uphold our values for every story published.