Photo Gallery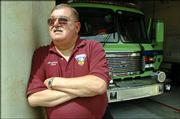 Fire chief Jim McSwain
Jim McSwain, 65, a longtime Lawrence fire chief, died Thursday at Lawrence Memorial Hospital.
Services for James "Jim" A. McSwain, Lawrence, will be at 10 a.m. Tuesday at the Mustard Seed Fellowship in Lawrence. Private inurnment will occur later.
McSwain was the retired fire chief for the city of Lawrence. He served in that position for 27 years until his retirement in September 2005.
While in Lawrence, he oversaw the growth of the Lawrence Fire Department and the eventual merger with the Douglas County Ambulance to form the Lawrence-Douglas County Fire Medical in 1997. He advocated many changes and safety procedures in Lawrence, which helped boost the city's fire insurance rating. Prior to moving to Lawrence, he was an professor of Fire Science at Oklahoma State University.
Copyright 2018 The Lawrence Journal-World. All rights reserved. This material may not be published, broadcast, rewritten or redistributed. We strive to uphold our values for every story published.