Lawrence gave a fond farewell and a big "thanks" to its longtime fire chief Wednesday evening.
Colleagues, friends, family and local and state government officials honored Jim McSwain during a retirement reception in a packed Liberty Hall, 642 Mass. President Bush sent a letter of congratulations, and Gov. Kathleen Sebelius issued a state proclamation in McSwain's honor.
It all left the 62-year-old McSwain a little dumbfounded.
"Wow," he told the crowd, after receiving a standing ovation. "I'm normally not speechless, but you guys have pretty much beaten me down. With all this support, anybody could succeed as fire chief in Lawrence, Kansas."
Others weren't so sure.
"He's been a very progressive chief," said Kansas City, Mo., Fire Chief Richard "Smokey" Dyer, one of several chiefs and former chiefs from departments in Kansas and the Kansas City metropolitan area who came to pay tribute to McSwain.
Dyer called McSwain "a trailblazer" because in 1978 he was hired as chief from outside the Lawrence Fire Department, something that was rare at that time. He also said McSwain had an outstanding reputation among the various fire-chief organizations and among chiefs in cities with major universities.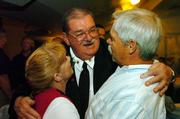 Tom Girard retired as chief of the Salina Fire Department five years ago. But he said that on the day he was named that city's fire chief, he consulted McSwain for advice.
"My first question was 'How do I become a fire chief?'" said Girard, who considers McSwain his best friend. "He just started throwing books at me."
More accolades came from Wellington Fire Chief John Lloyd, who also is president of the Kansas State Association of Fire Chiefs. The mark of a good leader is the quality of staff he leaves behind, and McSwain is doing that, he said.
"He has always been known as a leader among Kansas fire chiefs," Lloyd said before the ceremony. "When you think of Lawrence, you think of lime-green fire trucks and Jim McSwain."
Ted McFarlane was head of the Douglas County ambulance service in the late 1990s and worked with McSwain to merge the fire and medical services, forming Lawrence-Douglas County Fire & Medical.
"There were so many changes," said McFarlane, now head of the Johnson County MED-ACT ambulance service. "He knew where he wanted to go. He was a visionary."
After a video recounting McSwain's life and career, he received several awards. He keeps his badge and he was given a white, retirement helmet.
The retirement of McSwain, who spent 27 years as Lawrence chief and 43 years in the fire service, became official on Monday. During an emotional speech, McSwain gave thanks to the department and paid his own special tribute to Alice Fowler, his secretary of 16 years, and his wife, Rachel.
After the ceremony, he said he wasn't sure what he was going to do next.
"I've got five grandchildren I can mess around with," he said.
Copyright 2018 The Lawrence Journal-World. All rights reserved. This material may not be published, broadcast, rewritten or redistributed. We strive to uphold our values for every story published.