Photo Gallery
Weather-caused accident on Kansas Turnpike
Photo Gallery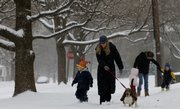 Dec. 16 Winter Storm
Photo Gallery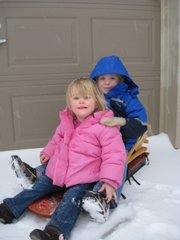 2008-09 Winter Weather Reader Photos
David Bitter talks about the accident he was involved in
5:28 p.m.Lawrence Memorial Hospital treated five patients from the I-70 accident this morning.
A spokeswoman said one was transferred to Kansas University Hospital in Kansas City, Kan., with serious injuries. The others were treated and released.
LMH also treated one patient for a hip fracture from falling on ice.
"We are prepared to see more activity throughout the night," said Belinda Rehmer, hospital spokeswoman.
4:39 p.m. About five people received minor injuries in a series of crashes Tuesday morning on the Kansas Turnpike, authorities said.
There were three different groups of accidents, involving a total of 15 vehicles, including two semi-trailers, said KTA spokeswoman Lisa Callahan.
The first accident happened about 9:05 a.m.
While eastbound traffic was backed up for about a mile, it was always moving, Callahan said.
The accidents were cleared and traffic was returned to normal by 2:30 p.m., she said.
Low visibility and snow-packed roadways are blamed for several other crashes in Kansas today. The Kansas Highway Patrol is calling today's weather a "routine snow event" and didn't have reports of any other fatalities.
Meanwhile, the Lawrence Police department updated its accident count to 17 for Tuesday. A police spokeswoman said no one was injured in the city crashes.
4:02 p.m. Our 4 p.m. update for commuters is up. Here's the rundown of road conditions based on where drivers are going to and from:
Between Kansas City and Lawrence
3:34 p.m. About 1,000 students were absent from Lawrence Public Schools today, a spokeswoman said.
Nine percent of the student body — or 998 students — didn't attend school, "which isn't unusual," said Julie Boyle, spokeswoman.
Parents can excuse students for health and safety reasons, including inclement weather, though the district doesn't categorize absences by the specific type of excuse, Boyle said.
2:24 p.m. Some residents choose to find the brighter side during a snow storm.
For 82-year-old Wayne Mercer, that means pulling out his snow blower and making short work of the sidewalks and driveways all along his street. And for the 4- and 5-year-old Marsh brothers, both adopted from Siberia, it means some snow shoveling followed by some snowman building.
2:09 p.m. 6News Chief Meteorologist Matt Elwell reports that downtown Lawrence saw 3.5" of snow so far today. West Lawrence was closer to four inches.
While the snow continues to fall, very little additional accumulation is expected today.
2:03 p.m. Lawrence police said nine crashes have been reported in the city limits today. No one was injured in the accidents, police spokeswoman Kim Murphree said.
2:01 p.m. The decision to hold school in Lawrence Tuesday may not have been a popular one for students, but public schools Superintendent Randy Weseman said it's something that must be adapted to.
"It's winter, it's going to snow, it's going to be inconvenient," Weseman said. "Slow down, adapt and persevere."
1:47 p.m. "The snow is dwindling to just light snow and flurries," said 6News meteorologist Alex Harrington.
Harrington said freezing drizzles could be in store for the afternoon and the roadways will continue to be slick, though additional snowfall accumulation will be minimal the rest of the day.
1:21 p.m. Light snow continues to fall in Lawrence.
The Kansas Department of Transportation reports that all highways in Lawrence, including parts of K-10, U.S. 40 and U.S. 59 through Lawrence, are completely snowpacked.
As you enter Johnson County, roads are classified as "mostly snowpacked." The roads are considered "mostly snowpacked" in Shawnee County as well.
In Jefferson and Leavenworth counties, roads are either completely or mostly snowpacked.
12:57 p.m. A Kansas Turnpike Authority dispatcher said emergency crews are still working to get vehicles off I-70 involved in the multiple car accident more than 2 ½ hours after the crash.
The dispatcher said traffic is beginning to move more smoothly through the area of the crash.
One witness said traffic appeared to be backed up for about a half-mile this morning.
12:34 p.m. If you're at the office today, make sure you come back at 4 p.m. for a complete commuter forecast for road conditions from Topeka and Kansas City into Lawrence.
12:13 p.m. Another witness to the I-70 accident said at least four semi trucks were involved.
A Lawrence police spokeswoman said an update to the number of accidents in the city would be made available this afternoon.
12:04 p.m. An injury accident that was slowing traffic on Sixth Street was reported at the intersection of Sixth and Colorado streets.
11:56 a.m. No fatalities have been reported in Northeast Kansas from the snowstorm, though police in Wichita said a man died late last night after driving at a high speed on a snow-packed road and crashing into a tree.
The Kansas Highway Patrol said no fatal accidents had been reported as of mid-morning.
A Lawrence Memorial Hospital spokeswoman said things have been relatively normal in the emergency room today.
11:17 a.m. One driver involved in the crash on the turnpike said whiteout conditions and a salt truck are to blame.
Ted Bergkamp said cars were trying to avoid a large truck in the far left lane.
"Everybody ended up swerving … to miss it," he said.
"It was a whiteout and I just slid and couldn't see," Bergkamp added. "My driver's side window's broken … the whole left side of my Corvette is crunched."
Bergkamp, who wasn't injured in the crash, said semis are jackknifed on the highways and some vehicles that were hit didn't stop.
10:34 a.m. A Douglas County emergency dispatcher said "a lot" of accidents have been reported to the 911 communications center this morning. An exact number wasn't immediately available.
10:30 a.m. Journal-World and 6News journalists at the scene of the accident in the eastbound lanes of the Kansas Turnpike report that at least 12 vehicles are involved.
The accident scene is near the intersection of Douglas County Road 1029 and Interstate 70. According to the Kansas Turnpike Authority, the turnpike remains open in both directions, including through the accident scene.
"Traffic is moving," said Lisa Callahan, KTA director of public relations. "It's moving slowly through there."
It's not yet clear how many people were injured in the crash.
9:55 a.m. A fourth medical unit has been dispatched to eastbound I-70 west of Lecompton for the major accident on the turnpike.
9:36 a.m. The City of Lawrence put out a statement this morning, saying its crews have been out since 4:30 a.m. All arterial streets have been treated twice and crews are now working on collector streets.
Iowa and Sixth streets are examples of arterials; Tennessee is an example of a collector.
City crews will commence plowing operations — and not just sand and salt spreading — once the accumulation reaches three inches.
The city reports that most roads are snow covered and snow packed.
The city also issued a reminder that sidewalks must be cleared within 24 hours of the snowstorm.
9:28 a.m. 6News meteorologist Craig Gold says Lawrence has about 2.5 inches of snow so far and should have three by the time the snow tapers ends about 10:30 a.m.
He expects the snow will see be on the ground when an ice storm is expected to move through Wednesday night and Thursday morning.
9:21 a.m.A Kansas Highway Patrol trooper on the scene of the multiple car pileup reported that there were at least three people injured, including one person trapped in a vehicle.
9:16 a.m. There are reports of a 15-20 car chain reaction on the Kansas Turnpike about three miles west of Lecompton.
Several crews from Lawrence Douglas County Fire and Medical and Lecompton Township Fire are responding to the scene.
The Kansas Department of Transportation lists the Kansas Turnpike as "mostly snowpacked."
9:10 a.m. Tuesday morning's snow was causing the usual havoc with rush hour traffic in Lawrence but there have been no serious accidents, Douglas County emergency dispatchers said.
There are trouble spots, mostly on the city's hilly streets. Dispatchers identified the following areas where traffic was backed up:
Bob Billings Parkway and Monterey Way.
2100 block of Kasold Drive.
Ninth Street and Avalon Road.
Clinton Parkway and Iowa Street
Copyright 2018 The Lawrence Journal-World. All rights reserved. This material may not be published, broadcast, rewritten or redistributed. We strive to uphold our values for every story published.