Photo Gallery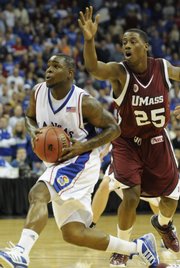 KU vs. UMass
-->
Self gets 'T'
Kansas University coach Bill Self was hit with a technical foul by ref John Higgins with 5:45 remaining — KU down by one — after Self waved his arms in an animated matter in the direction of the official.
Ricky Harris hit two free throws to give UMass a 55-52 advantage. However, the Minutemen did not score on the ensuing possession.
"I deserved it. Higgins warned me the first half. He said he's had enough," Self said. "I waved him off when I thought he made a bad call. I've done a lot more and not gotten one, but, you know, he warned me he was going to pop me if I did that.
"You lose a game by one and the coach gets a 'T' with six minutes left and he makes both free throws, coach should know better. That was for the most part a veteran crew out there. I should know better than to put our team in that situation."
Cold and flu season
Sherron Collins was under the weather, suffering from flu-like symptoms that included vomiting. "That's no excuse, though," he said after scoring 19 points off 6-of-21 shooting with four assists in 38 minutes.
Inside game lacking
KU center Cole Aldrich scored 12 points (with 13 boards) off 5-of-8 shooting. He took just three shots the second half, making two.
"They sagged in, but that's no excuse. We didn't do a good job getting Cole the ball," Collins said.
Aldrich definitely was the focus of UMass' defense.
"There were opportunities I could have touched the ball, but they (teammates) see the weak-side guy sagging over, I'd be a little hesitant to throw the ball in, too, if I were a guard," Aldrich said.
Self said: "If they are going to sag like that, you need to make some shots to get them not to do that. Also, there was total impatience. I would say our shot selection was as poor as it has been in quite some time today."
Twin troubles
Freshman Marcus Morris had four points off 2-of-8 shooting in 17 minutes. Markieff Morris had no points in eight minutes with one rebound and two turnovers in eight minutes.
"I just think we came out real flat in the beginning. We were fighting from behind the whole game," Marcus said.
Asked about sitting out a long stretch in favor of Conner Teahan, Marcus Morris said: "It's what coach decided. I had to stay ready. He told me to stay ready. The run at the end of the half, he wanted me to get in. He gave me a chance to get back out there and play."
Mohawks may go
Collins and Tyshawn Taylor sported new mohawk haircuts for the game.
"I don't know, man. I might get rid of it," Taylor said after missing six of seven shots and scoring three points.
Stats, facts
The loss ended KU's home winning streak at 30 games. Apparently, regular-season games in Sprint Center on the season-ticket package count as home games. KU has won its last 29 games in Allen Fieldhouse, since a loss to Texas A&M; in 2006-07. ... KU trailed (36-30) at halftime for the first time all season. ... KU's 33.9 shooting percentage was its worst since 32.1 percent against K-State on Jan. 14, 2006. ... KU set season lows in points (60), points in a half (30), field goals (21), field-goal percentage (33.9) and defensive rebounds (23).
Copyright 2018 The Lawrence Journal-World. All rights reserved. This material may not be published, broadcast, rewritten or redistributed. We strive to uphold our values for every story published.