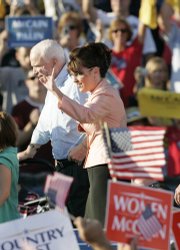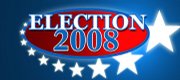 In-depth coverage of the candidates and the issues, all leading up to the Aug. 5 primary and the Nov. 4 general election.
St. Paul, Minn. — John McCain introduced new running mate Sarah Palin to voters in battleground Pennsylvania on Saturday as they wound their way toward St. Paul and a Republican National Convention where the mood was suddenly threatened by Hurricane Gustav.
Gulf state governors could decide to remain at home if the storm threatens to bring serious damage. It could also affect Monday's opening-night address by President Bush. Gustav's projected path suggests it will make landfall late Monday or early Tuesday on Louisiana's central coast.
Said McCain: "You know it just wouldn't be appropriate to have a festive occasion while a near tragedy or a terrible challenge is presented in the form of a natural disaster, so we're monitoring it from day to day and I'm saying a few prayers, too."
He commented in an interview taped for "Fox News Sunday."
A top McCain aide, Mark Salter, said the campaign is drawing up contingency plans for what to do about the convention depending on when and where the storm hits. But he said that it didn't mean the gathering would be canceled outright.
Today, McCain and Palin are traveling to Mississippi to check on people getting prepared for Hurricane Gustav. Aides say McCain and Palin are traveling to Jackson, Miss., today at the invitation of Mississippi Gov. Haley Barbour.
On Saturday, McCain and Palin made a morning stop at Tom's Diner in Pittsburgh's trendy Southside neighborhood. The running mates, with spouses in tow, greeted patrons and posed for pictures. Palin's daughters Willow and Piper were also on hand, with Willow carrying Palin's 4-month old son, Trig.
Palin also issued her first fundraising appeal, saying in an e-mail, "Some of life's greatest opportunities come unexpectedly, and this is certainly the case for me."
Copyright 2018 The Associated Press. All rights reserved. This material may not be published, broadcast, rewritten or redistributed. We strive to uphold our values for every story published.