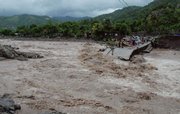 New Orleans — Police with bullhorns plan to go street to street this weekend with a tough message about getting out ahead of Hurricane Gustav: This time there will be no shelter of last resort. The doors to the Superdome will be locked. Those who stay will be on their own.
New forecasts Friday made it increasingly clear that New Orleans will get some kind of hit - direct or indirect - early next week. That raised the likelihood people would have to flee. The city suggested a full-scale evacuation call could come as soon as Sunday.
Those among New Orleans' estimated 310,000 to 340,000 residents who ignore orders to leave accept "all responsibility for themselves and their loved ones," the city's emergency preparedness director, Jerry Sneed, has warned.
As Katrina approached in 2005, as many as 30,000 people who either could not or would not evacuate jammed the Louisiana Superdome and the riverfront convention center. They spent days waiting for rescue in squalid conditions. Some died.
This time, the city has taken steps to ensure no one has an excuse not to leave. The state has a $7 million contract to provide 700 buses to evacuate the elderly, the sick and anyone around the region without transportation.
Officials also plan to announce a curfew that will mean the arrest of anyone still on the streets after a mandatory evacuation order goes out. Police and National Guardsman will patrol after the storm's arrival, and Gov. Bobby Jindal has said he requested additional urban search and rescue teams.
Police planned to roam neighborhoods today, directing residents-in-need to pick-up points. The city also planned to reach out to churches, hoping to spread the word about where the buses will pick up evacuees.
Northbound traffic was heavy Friday on Interstate 55 - a major route out of the city - and backseats of some cars were stacked with clothes, boxes and bags. Gas stations around the city hummed with activity. Meanwhile, hospitals and nursing homes also began moving patients further inland.
In an effort to keep track of where people go after they leave the city, officials planned to give evacuees who provided authorities their information ahead of time bar-coded bracelets containing their ID.
Gustav strengthened into a hurricane Friday and hit the Cayman Islands, then western Cuba before moving into the warm waters of the Gulf bound for the U.S. coastline early next week.
Copyright 2018 The Associated Press. All rights reserved. This material may not be published, broadcast, rewritten or redistributed. We strive to uphold our values for every story published.