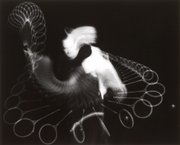 Time will be the focus of two exhibitions this fall at the Spencer Museum of Art, the first of which opens today.
"Time/Frame" features art from the Americas, Africa, Europe, Asia and Australia in various media, all of which "consider the ways in which artists have pondered and picture time," according to the museum.
The works remind us that our interest in keeping time goes back to early humans, with methods of measuring time tied to such activities as farming, hunting and the celebration of sacred feasts.
The exhibit, in the north and south balcony galleries, includes works by Andy Warhol, Diane Arbus, Larry Schwarm and others. It continues through Dec. 14.
A second exhibition, "Wendell Castle: About Time" opens Sept. 20 and runs through Dec. 21. Castle, a Kansas University alumnus, will install five clocks in the museum's Central Court. Castle is a furniture-maker and sculptor who is known for his intricate works.
The museum, 1301 Miss., is open from 10 a.m. to 5 p.m. Tuesdays through Saturdays and noon to 5 p.m. Sundays. It is open late until 9 p.m. on Thursdays.
Copyright 2018 The Lawrence Journal-World. All rights reserved. This material may not be published, broadcast, rewritten or redistributed. We strive to uphold our values for every story published.