Photo Gallery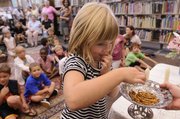 Bug Banquet
Bruce Flanders is eating his words.
Several months ago, the Lawrence Public Library director threw out a challenge.
"It was just one of these rash comments I made earlier in the summer," he said.
Flanders had vowed to eat insects if children participating in the 2008 summer reading program - "Catch the Reading Bug" - read lots of books beyond those required in the program.
Participants had to read enough to make a line of 5-inch paper ants - representing 10 extra books each - go around the kids' room, then around the library lobby and back.
The 2,200 children and young adults in the program succeeded.
So on Wednesday, Flanders sat down in front of an audience of about 30 children to a meal of barbecue-flavored mealworms.
"I'd do almost anything to get people to read, so this is about as far as I've ever gone before," he said.
Among those who ensured Flanders would be chewing on larval beetles were 11-year-old twins Yelena and Anna Birt, who read a combined 198 books this summer.
"I like exploring other places," Yelena said. She also munched on a mealworm. "It was crunchy and disgusting."
Anna also likes to dive into a good book. As for the bugs, she wasn't biting.
"In my opinion, I thought it was very disgusting," she said.
Copyright 2018 The Lawrence Journal-World. All rights reserved. This material may not be published, broadcast, rewritten or redistributed. We strive to uphold our values for every story published.